I started journaling when I was a teenager. I remember my first diary. I would keep it in the drawer by my bed. Every night before I would go to sleep, I made it a habit to write something about the day in my journal. I still have those journals and when I take a few minutes to read them, they always make me smile.
I encourage everyone to keep a personal journal. As time passes, we don't remember little things that happen each day that make special memories. When we keep a daily journal, you can capture those memories and preserve them.
In addition to a personal journal, this post will explore 25+ types of journals you can start and keep.

Why journal?
Journaling has many benefits including relaxation, reflection, and a record of your life. Writing in a journal can be a great hobby and you will find there are many different types of journals you can start.
Types of journals you write will vary from person to person. Journals are very personal. Here are 25 different types of journals you can try.
Note: This post features the beautiful EttaVee Collection by Erin Condren. I would like to thank the Erin Condren team for sharing these products with me. This post includes affiliate links. If you make a purchase, I may receive a small commission at no additional cost to you. Read my full disclosure policy here. All opinions in this post are my own.
25+ Types of Journals
Personal Journal
My favorite type of journaling is writing my thoughts and feelings for the day. With a personal journal, you'll find a special joy writing down a memory or emotional release from writing your feelings.
Some days you may write a few pages, other days you might only write a few paragraphs. Keeping a personal journal for me is the best way to preserve memories.
Weight Loss Journals/Fitness Journals
Weight loss journals are very popular. Weight loss journals are mostly tracking journals to help you track your progress toward weight loss goals. You can set up your journal in a way where you can quickly jot down your weight loss goals and achievements for the day.
One of the main things you include in a weight loss journal is what you eat every day. You can also include how long you worked out, what kind of workout you completed, and your weight can all be noted for the day.
You can also create health and fitness goals and track your progress toward these goals.
Don't forget to include a weekly menu plan, favorite recipes and recipes to try.
Morning Journals
A morning journal is exactly what the name says. It's a journal for writing in the morning. Each day you set a number of pages and write. You can use a writing prompt or just write about whatever is on your mind this morning.
Morning page journals are great way to practice and improve your writing skills.
---
EttaVee Collection by Erin Condren
The Beautiful EttaVee Notebooks and A5 journals from Erin Condren are perfect for your journaling.
The EttaVee Collection has bright and beautiful covers that will add cheer to your day. Who can look at these journals and not feel happy?
Notebooks are available in 2 sizes: 7″ X 9″ and A5. Both sizes have options for removable covers.
These journals and notebooks are perfect for journaling needs.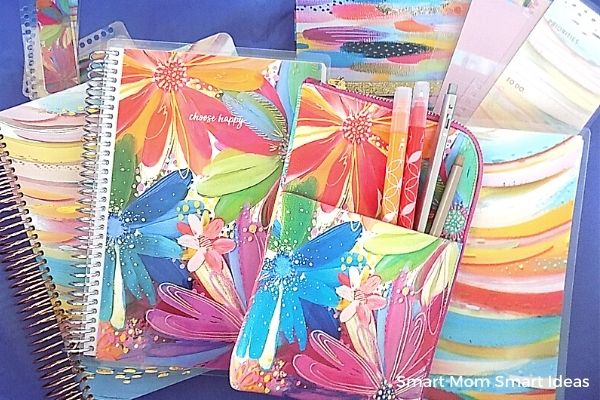 ---
Goal Planning Journals
Goal planning journals help you set your goals and define a plan to achieve your goals through a series of prompts and checklists. The trick to these journals is setting it up to track your progress, set daily tasks and manage big goals.
You can have one goal planning journal or several. You might find you like a theme for your goal planning journal such as career, church, children, weight loss, or business. Depending on the journal theme, you may have a checklist with a small writing area or prompts giving you tasks to complete and thoughts regarding those tasks.
Bullet Journals
Bullet journals are for your creative side. You can design a bullet journal in just about any format you like. Many bullet journals have beautiful and creative designs on every page. Bullet journaling allows you to create beautiful layouts. You can make calendars, lists, bullet lists, and task lists in your bullet journal.
Bullet journaling allows you to design a layout you find visually appealing and will help you manage daily tasks, work toward your goals and allow you to be creative.
Bucket List Journal
Have you ever made lists of things you would like to do and places you would like to visit?
A bucket list journal is the place to write all your ideas, you can make lists of all types: places to visit, books to read, jobs to try, projects to finish. Write down your ideas whenever inspiration hits you, whatever you want to do.
Vision Journal
A vision journal is a fun way to visualize your future. You can draw pictures of your future. You can clip images from magazines and books and make college's of your vision.
You can design your vision by goals like personal, travel, professional and educational. Or you can create vision boards with goals for the next year, 5 years and 10 years.
---
Designed to Bullet Journal
If you choose an EttaVee 7″x9″ Notebook, you can select from 5 different page layouts including 5mm dot grid or sketchbook with an open layout. These page layouts are designed for bullet journals and list journals like goal setting, bucket lists and vision journals.
You might also like the List markers that come in sets of 2. The marker has the circle stamp and star stamp to make your own lists and mark your tasks done.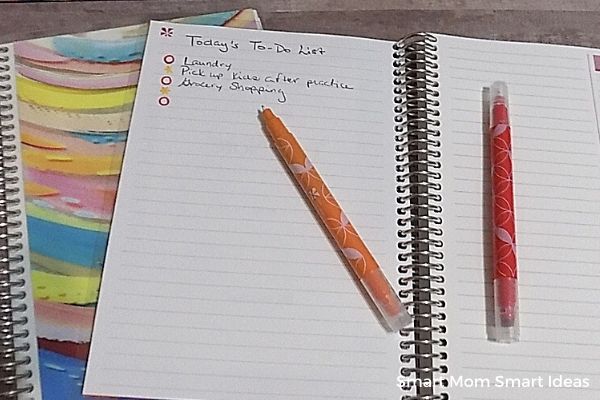 ---
Dream Journaling
Who do you want to be? What do you want to do? What are your dreams for your life and your future?
Start a dream journal and write about who you are right now and who you want to become. Then write about what you need to do to make this happen.
Travel Journal
I love traveling. I love writing about my adventures and favorite memories from family vacation and travel. When I travel, I take my travel journal with me and write a short summary of each day making sure I can remember everything we did, funny stories, and special memories. I also like to include tickets and receipts from activities each day.
---
Monthly Planners & Journals
In addition to the interchangeable covers on the A5 and 7″X9″ Notebooks, you can also get the new vegan leather cover on monthly planner.
The monthly planner has pretty pastel colors and the vegan leather has a soft feel.
The monthly planner can be used for monthly goal and project planning, but it also works well as a gratitude journal, travel journal, prayer journal or devotional journal.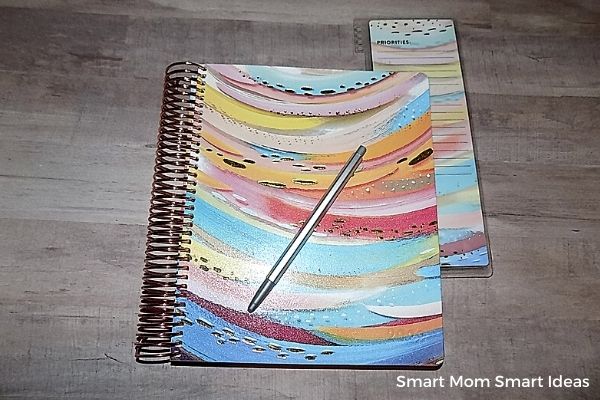 ---
Gratitude Journal
Being thankful changes our perspective. It's hard to feel sorry for yourself and focus on your problems when you are being thankful. A gratitude journal allows you to write a short sentence or paragraph of what you are thankful for each day.
Devotional Journals/Faith Journals
Faith journals are perfect for Christians to write about their faith, thoughts, and questions about God. In your devotional journal, you can write about what you have learned in recent Bible studies and passages.
I love to keep a sermon journal. Every Sunday, in my sermon journal, I keep notes on the pastor's message. This journal gives me a great reference to review in the future.
With a faith journal, you can write about your experiences with God and how your relationship is growing and deepening. You can write about your feelings about God and His love. You can include examples and real accounts of how He has worked in their life.
Devotional journals are perfect for writing about your favorite scripture, passage, or quote and then share you thoughts related to the daily thought or passage. Daily faith journaling can grow your faith.
Prayer Journal
A prayer journal allows you to write your prayers and requests. You can also include prayer requests for others. You can also include Bible verses in your prayer journal.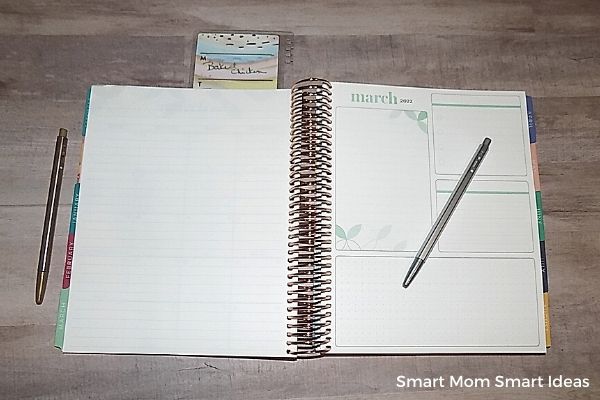 Reading Journal
Do you love to read? Do you have a list of books you are want to read? With a reading journal, you can make lists of all the books you want to read. You can make lists by your favorite genre or author. You can also write your thoughts about each book like a mini book report without the grade.
Minute Journal
Take one minute every morning or evening and write a thought for the day in your minute journal. You can write something meaningful that happened, a quote you liked, or a Bible verse.
Guided Journal
Do you ever feel like you don't know what to write? You can use a guided journal or journal prompts. Journal prompts are usually themed or monthly.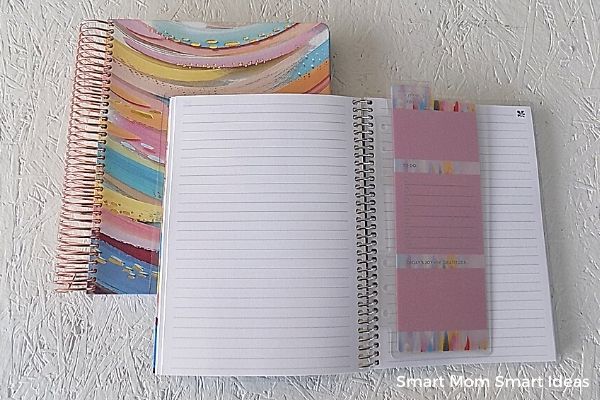 Project Journal
Do you have a list of projects you are working on for home or work? Use a project journal to define each task, make lists of resources you need, and the steps you need to complete the project. A project journal allows you to think through each project. For home improvement projects, you can include a drawing or sketch of your final design. You can also include pictures of the progress you make. Pregnancy Journal How exciting to find out a new little one will be joining your family! A pregnancy journal allows you to write about your feelings daily and weekly. You can also track the progress of your pregnancy and the changes in your body and feelings.
First Year Journal
When my kids were little, I had a first year journal for them. In a first year journal or baby journal, you write down all the "firsts" your baby has, every milestone they reach, a monthly summary of growth and changes.
You can also include any daily activity or event you think is important and want to remember. Or you can write a few sentences each day.
Creative Journal (Art Journal or Poetry Journal)
Are you a creative type? Why not fill your journal with your creativity? It could be doodles and drawings, poetry or writing. Make the most of your creativity with a journal to let your juices flow.
Gardening Journal
I love plants and tracking their progress. A gardening journal allows you to keep inventory of your plants or garden, map a layout and plan a care schedule. With a gardening journal, you can inventory your plants, track how placement and lighting impacts your plants, watering needs and overall plant health.
Feelings Journal
If you are a highly emotional person, you might like a feeling journal. With a feelings journal, you can track your emotions, what you are feeling and why you feel this way.
You will likely find patterns to your emotions and start to recognize deeper reasons that impact your emotions.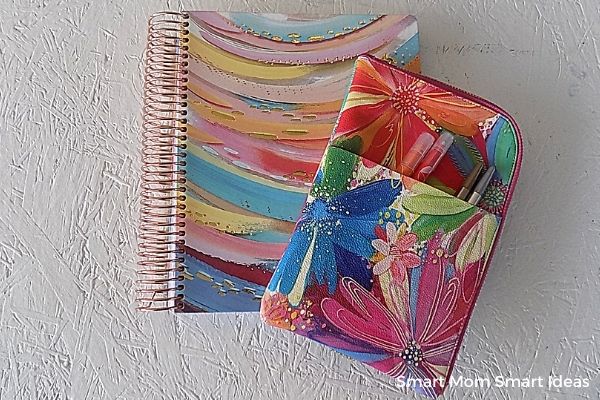 Relationship Journal
You might call this a romance journal. Write your favorite memories you share with your husband or significant other. If you are just starting a relationship, write about how you met, your first date, and special occasions. Capture your feelings at the beginning of a new romance.
If you are married or in a long term relationship, you can still write about your romance. It will be a more reflective journal. You can write about your feelings as your kids grow, you have grandkids, and new phases of your relationship.
A romance journal or relationship journal will be one you want to read over and over again and see how your relationship has changed and grown through the years.
Health Journal/Period Journal
A health journal is helpful to track medical conditions, surgeries, and medical allergies. As you get older, doctors will constantly ask your health history. Write it down while you can still remember it all.
When you are younger, you may also want to track your period so you are surprised. Tracking symptoms will also help you understand your monthly cycle and know what to expect and how you can minimize symptoms.
Self-Care Journal
Are you taking care of yourself? You can use a self-care journal to plan special activities that help you relax even for just a few minutes each day.
Favorite Quotes Journal
Quotes and verses can be so inspirational. When you hear a great quote, its worth writing down so you can remember the quote later. You can create pages and pages of your favorite quotes and go back to them whenever you need a pick-me-up.
Summer Journal
Summer is a unique time of the year. The days are longer, routines are different. Kids are out of school. You have more time for hobbies and special interests. If you travel during summer, keep travel of where you visit. Make updates to your summer journal and look back at your yearly summer memories.
High School Journal
I already mentioned I kept journals in high school. I still have those journals. 
High school is a special time. If you are a teenager, high school is a great time to start journaling. I suggest taking a few minutes every day (maybe before bed) to write down memories and special things that happened each day.
---
Pretty Accessories
Your journals wouldn't be complete without pretty accessories.
I love the brightly colored planny back in the EttaVee Collection. It's a beautiful blend of reds and oranges.
The color coordinated snap-in's are also available for 7″x9″ and A5 journals and notebooks.
See all the EttaVee journal and planner accessories here.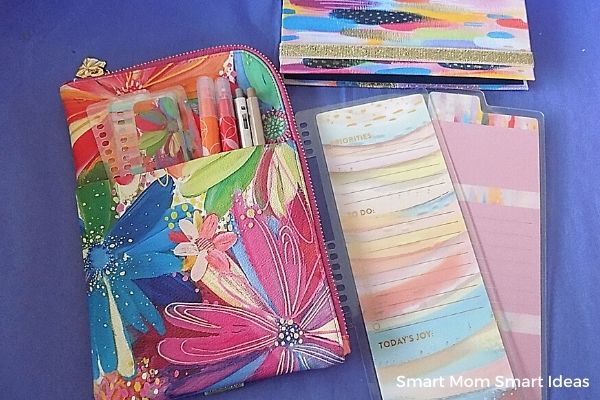 Have you wanted to start a journaling habit? Or maybe you need a new journal. I recommend checking out the EttaVee Collection from Erin Condren. You'll find pretty planners, journals and accessories for every type of journal.