Would you ever imagine the words back to school would create so much stress?
As moms we are worried about what back to school will look like. Over the last week, I have seen many moms sharing concerns on Facebook about back to school.
I don't have the answer that will solve every back to school problem or answer every question, but I know that back to school prayer for students can make a difference.
I offer these 10 back to school prayers for students to moms concerned about their kids and the start of the new school year.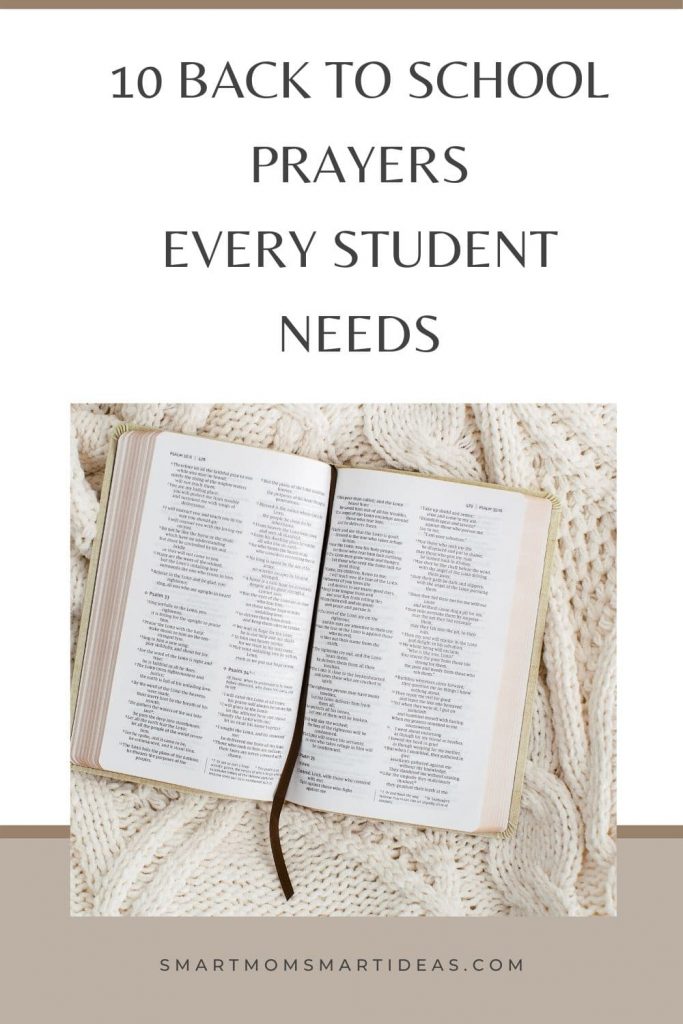 As parents, we send our children to school, we no longer have control of their time, how they will behave or the actions they will take. We trust the life lessons we have taught them will become applied when we are not around. Yet, we don't have to blindly hope things will work out, we can pray for our children.
---
Recommended for you: Back to School Resources – everything you need for back to school. Planning your routines, making school lunches, preparing for success, starting your day right and much more…
---
10 Back to School Prayers for Students
Whether your children attend a public school, private school, Christian school or home school, they will face temptations and challenges daily. These back to school blessings will help strengthen their character.
1. Safety
Zephaniah 3:17, "The Lord your God is in your midst, a might one who save; he will rejoice over you with gladness; he will quiet you by his love; he will exult over you with loud singing."
Safety is the buzz word we hear every time we turn on the TV this year. Will our children be safe in school? Rather than let fear grip your heart, I give you this verse, and this promise, God is in our midst.
Think about that, God is with us. We worry about masks, gloves, and disinfectants. God says that he is a mighty one able to protect and save. Our first prayer this school year should be safety and protection.
2. Steadfastness
Colossians 2:5, "For though I am absent in the body, yet I am with you in spirit, rejoicing to see your good order and the firmness of your faith in Christ."
Being steadfast means to be firm, fixed or constant. This prayer is for your child to be steadfast means they will be constant and fixed in their faith in Christ. The world seeks to distract them and pull them away from their faith. Let us pray they will be strong and hold to the faith they have been taught.
3. Obedience
I Samuel 3:10, "Now the Lord came and stood and called as at other times, 'Samuel! Samuel' And Samuel answered, 'Speak, Lord, for your servant hears.'"
Samuel was just a young boy when God called to him, but he answered with a tender and obedient heart. Pray for your child to have an obedient heart and spirit.
Obedience can be a struggle for some children. They struggle to follow the rules, they struggle to obey parents and teachers. Pray they will have open hearts to God's voice and always obey the first time.
4. Boldness
Acts 28:31, "Proclaiming the kingdom of God and teaching about the Lord Jesus Christ with all boldness and without hindrance."
Pray for your child to be bold and speak with courage about their faith and beliefs in Jesus. For children who attend public schools, their faith will be challenged daily by friends and by teachers. Pray for boldness to share their beliefs and lovingly stand firm in their beliefs even when they are opposed.
5. Integrity
Proverbs 11:3, "The integrity of the upright guides them, but the crookedness of the treacherous destroys them."
Integrity means honesty. Integrity will guide the conscience. Pray for your child to guide their conscience and their integrity. A strong conscience and sense of integrity will help your child to always know right from wrong. Pray the Holy Spirit will strengthen their conscience and give them a heart for God.
6. Kindness
Ephesians 4:32, "Be kind to one another, tenderhearted, forgiving one another, as God in Christ forgave you."
Children will squabble and fight, and the first thing they forget is how to be kind. Pray they will always be kind to each other and speak only kind words.
7. Endurance/Perseverance
2 Timothy 4:7, "I have fought the good fight, I have finished the race, I have kept the faith."
One of my favorite Bible verses, as it reminds us we have to endure to the end and finish the course we have been given. In school, we focus on finishing each year successfully. Pray that your children will have endurance and perseverance to do their best from the first day of school to the last day of this school year.
8. Friendliness
Proverbs 17:17, "A friend loves at all times, and a brother is born for adversity."
Being a friend means being a friend at all times, how often we hear our children say to each other, "I'm not your friend," or "I'm not speaking to you anymore." We want our children to be a friend at all times. Pray that our children learn how to be a good friend and treat their friends with love like family.
9. Compassion
Galatians 6:2, "Bear one another's burdens, and so fulfill the law of Christ."
We want our children to have compassion and care for others. We want them to be sensitive to the needs of others. Pray they will see the problems and burdens of others and they will offer a hand to help when they are able.
10. Submission/Right Attitude
Philippians 2:14-15, "Do all things without grumbling or disputing, that you may be blameless and innocent, Children of God without blemish in the midst of a crooked and twisted generation, among whom you shine as lights in the world."
The importance of the right attitude cannot be missed or forgotten. Our attitude and how we approach situations will affect us throughout our lives. Pray that our children will have the right attitude at school and the right attitude toward authority and be submissive to their parents, teachers, and leaders who are guiding them. The right attitude shines the light of Jesus to others.
How to Use These Prayers
There are several ways you can use these back to school prayers for students. You can pray a few of them each day or you can pray one each day for 10 days and then start over. You can also add your own verses and character qualities.
Praying daily for our children will strengthen their faith and help them grow. We cannot be with our children every minute of every day, but we can send them to school equipped to face all the challenges they may encounter.
Your turn…
What prayer do you have for your children as they are starting school this year? Share in the comments.

PIN IT LATER: