Do you feel overwhelmed by life today? Are you walking through one of life's storms and wondering how you will survive?
Today, I want to help you with 10 encouraging Bible verses on how to handle adversity in your life. These 10 Bible verses will help you through life's trials and struggles.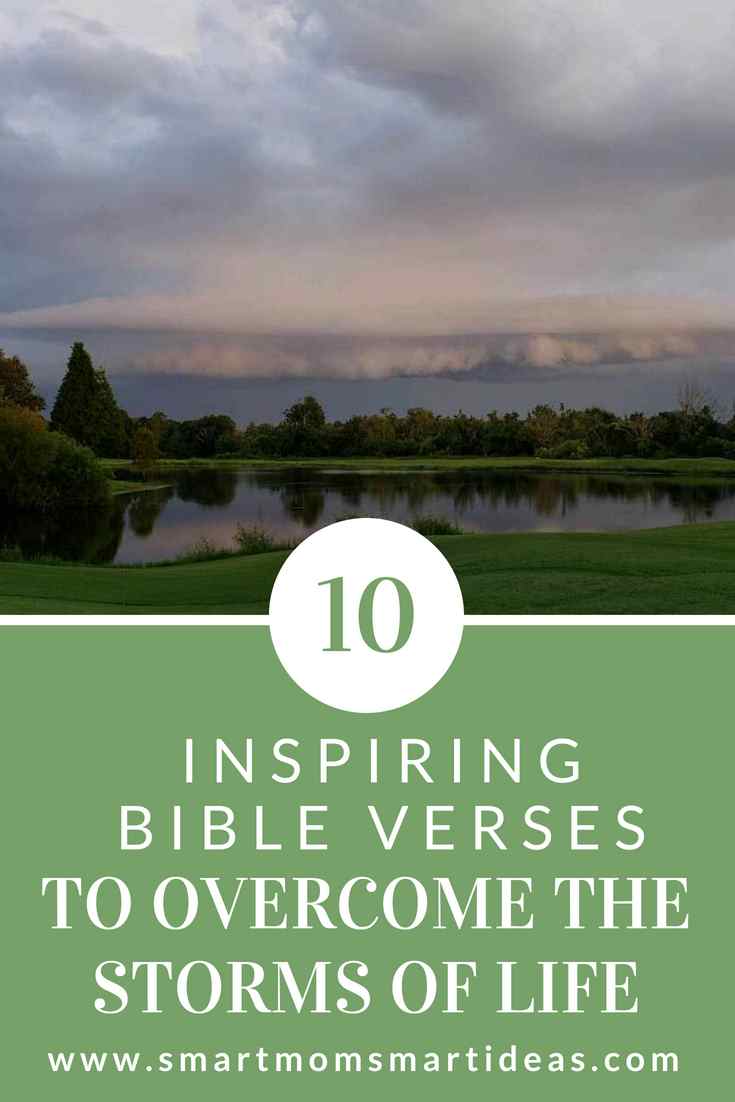 Last fall, just a few days after Thanksgiving, I was putting up our Christmas tree. I bent down to pick up one of the branches and suddenly I was having difficulty breathing. At first, I thought it was an asthma attack, but when the symptoms did not go away for several hours we went to the hospital. The doctors told me I had blood clots in my lungs and my leg. This was a very scary moment in my life.
I had to stay in the hospital for 5 days and I had several follow-up issues and treatments before things felt like normal several months later. These months were challenging and difficult time for me personally and as a mom. Even after my health improved, I continued to face obstacles and I had personal struggles to deal with all through the summer and even today.
We all know that at some time in our lives, we will all face life's storms. We all have trials and struggles in life.
No matter our status in life – wealthy, middle class, struggling, married, divorced, or a single mom, we all face adversity.  We all face many different obstacles:
You may be a single mom who works 2 jobs or long shifts to make ends meet.

You may be struggling with a divorce.

You may have a child with special needs or health problems.

You might have a serious health condition and don't know if you can keep your job and/or health insurance.

You may feel like you are not doing enough to help your kids.

You may feel like your kids are on the wrong path, even though you have spent years raising them and teaching them right from wrong.

You or your husband may have recently lost a job causing financial stress.

You may have lost a loved one and your heart is heavy with grief.
You are not alone today. No matter what your circumstance, God has a purpose in your trial and heartbreak today. He will grow you, He will strengthen you and make you whole again.
When you feel like you cannot go on, take comfort in these Bible verses that will help you handle this trial and obstacle in your life.
10 Bible Verses on

Overcoming Trials and Struggles in Life

Note: All verses are from the NKJV.
Promise to work all things together for good
Romans 8:28
"And we know that all things work together for good to those who love God, to those who are called according to his purpose."
When we are in the midst of a trial sometimes it's hard to see how God is working things for good. But if you are Christian and have placed your faith in Him, you can trust this promise and know that God has a plan and He is working everything together for your good.
Promise to Grow our Faith
Psalm 91:1-2
He who dwells in the secret place of the Most High shall abide under the shadow of the Almighty. I will say of the LORD, "He is my refuge and my fortress; My God, in Him I will trust."
During times of struggle and difficulty, we become more dependent on God. We are able to grow our trust in Him.
Promise to never leave you
Joshua 1:9
Have I not commanded you? Be strong and of good courage: do not be afraid, nor be dismayed, for the Lord your God is with you wherever you go.
God will never leave us. What a wonderful promise. We are not alone. In the dark, when we are afraid, God is always with us.
---
Recommended for you: 10 Bible Verses for Overwhelmed Moms
---
Promise of Peace
John 14:27
Peace I leave with you, My Peace I give to you; not as the world gives do I give to you. Let not your heart be troubled, neither let it be afraid.
God gives us peace. Even in our challenging and difficult days, God brings peace into our life. God's peace is not like the world's peace it's a deep inner peace that man cannot understand.
Philippians 4:6-7
Be anxious for nothing, but in everything by prayer and supplication, with thanksgiving, let your requests be made known to God; and the peace of God, which surpasses all understanding, will guard your hearts and minds through Christ Jesus.
Promise to bear your burden
Psalm 55:22
Cast your burden on the LORD, And He shall sustain you; He shall never permit the righteous to be moved.
What a relief, we don't have to carry our burdens alone. We can release our burdens and let God carry them for us.
Promise of Deliverance
Psalm 34:19
Many are the afflictions of the righteous, but the LORD delivers him out of them all.
God promises to deliver us. Sometimes our trials and obstacles are situations and people that are unfair or treating us badly. God will not leave you in your current trial.
Promise to Strengthen You
Isaiah 41:10
Fear not, for I am with you; Be not dismayed for I am your God. I will strengthen you, Yes, I will help you, I will uphold you with my righteous hand.
God promises to give you the strength you need for your trial. He will uphold you and help you overcome any challenge or difficulty you face.
The Promise of a Plan
Jeremiah 29:11
For I know the thoughts I that I think toward you, says the LORD, thoughts of peace and not of evil, to give you a future and a hope.
God always has a plan. We will not be left in a trial, He has better plans for us.
Promise to be Renewed
II Corinthians 4:16-18
Therefore we do not lose heart. Even though the outward man is perishing, yet the inward man is being renewed day by day. For our light affliction, which is but for a moment, is working for us a far more exceeding and eternal weight of glory. While we do not look at the things which are seen, but at the things which are not seen. For the things which are seen are temporary, but the things which are not seen are eternal.
Take heart, my friend, no matter what your circumstance today, it's only temporary. God has promised up a better future. A future with hope and renewal.
These 10 Bible verses on overcoming obstacles in life confirm the promise that God is always with us and He will help us overcome any storm we have in life. No problem or obstacle is too big or too small for Him to handle.
Take a deep breath today, cast your cares and troubles on Him and see how much lighter your load becomes. Notice how much easier it is to take each step.
For additional Bible study, you might enjoy the 30-day Anchored in Hope Bible Study. This study includes a daily Bible verse on hope. You can journal your feelings and insights each day as you study each new verse.
PIN IT FOR LATER: