Is your skin feeling rough and dry?  Do you need a simple way to refresh and moisturize your skin? DIY body scrubs are easy to make at home and are great for your skin.  You'll love how this blueberry lemon body scrub recipe will leave your skin feeling refreshed and soft.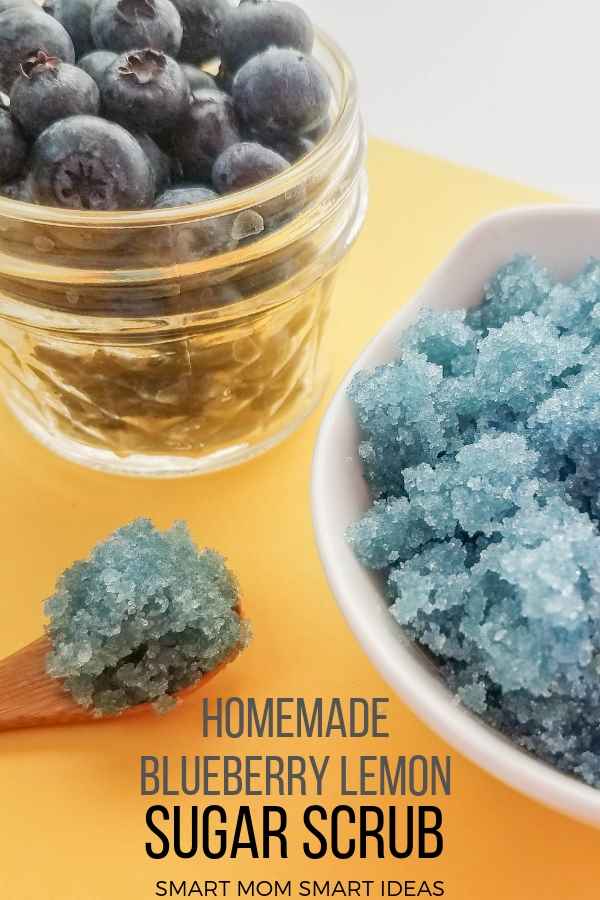 How to use a Sugar Scrub
A sugar scrub is used to cleanse and exfoliate the skin gently.
Start with a warm shower and get your skin completely wet. Then, slowly apply the sugar scrub to your skin. Rubbing in circular motions, but not too hard. You don't want to irritate your skin.
Continue rubbing the scrub over your entire body for 2-3 minutes.  Then rinse the scrub off your skin. As the scrub rinses away, you will usually feel your skin feels refreshed, clean and moisturized. The oil in the scrub should soften and moisturize your skin.
For best results, you only need to use a sugar scrub once or twice a week.
How to make a sugar scrub
Homemade sugar scrubs are easy to make. You just need a few basic ingredients to get started:
Sugar (white or brown)
Oil (like olive oil or almond oil)
Essential oils (your favorite scents)
Coloring (if desired)
Once you gather all your ingredients, you mix them in a bowl and they are ready to use.
You can save unused sugar scrub in an airtight container for about 3 months.
You can also use sugar scrub recipes like this one as sugar hand scrubs to exfoliate and soften your hands and as sugar scrubs for your feet.
To get you started making your own homemade sugar scrubs here's an easy recipe for Blueberry Lemon Sugar Scrub.
Blueberry Lemon Sugar Scrub
Ingredients
1 cup pure cane sugar

1/3 cup olive oil

10 drops lemon essential oil

1 drop blueberry soap colorant
Instructions
Combine all ingredients into a bowl and stir well.

Put into airtight containers and store up to 3 months.
PIN IT FOR LATER: