On busy weeknights when you need dinner fast, Chicken Fettuccine Alfredo is one of our favorite go-to dinner recipes. My kids love chicken fettuccine alfredo for dinner and it's easy to make in 20 minutes.
If you are new to making chicken fettuccine alfredo, the secret to great fettuccine alfredo sauce is taking a few extra minutes to make homemade alfredo sauce and skipping the jar alfredo sauce. Once you make homemade alfredo sauce, you'll never want jar alfredo sauce again.
What are the best sides to serve with Fettuccine Alfredo and Chicken?
The best sides to serve with fettuccine alfredo with chicken are veggies, especially green vegetables. Here are some of my favorite sides to serve with Fettuccine Alfredo and Chicken:
Green beans
Steamed broccoli
Mixed greens salad/Caesar Salad
Sauteed Spinach
Mixed roasted veggies like squash, carrots, cauliflower
Garlic toast/cheese toast
Recommend for you: Meal Planning Ideas ~ More recipes, meal plans and more…
FREE Smart Mom Meal Planner. Download a FREE copy here.
Chicken Fettuccine Alfredo Recipe
Most of the ingredients for this recipe, you will already have on-hand. If you don't have heavy whipping cream, you can substitute half-n-half or even whole milk, the sauce just won't be as thick and creamy. When I make this substitution, I usually add a tablespoon or so of corn starch or flour to the sauce to help make the sauce a thicker.
Chicken Fettuccine Alfredo
Classic Fettuccine Alfredo with Chicken
Ingredients
1

tbsp

olive oil

2

lbs

boneless skinless chicken breasts

3

cups

heavy cream

4

cups

chicken broth

4

tbsp

butter

2

cloves

garlic

minced

1

lb

uncooked penne pasta

1

cup

hot water

8

oz

shredded parmesan cheese

1

Salt and pepper to taste

1

Garlic powder

1

Italian seasoning
Instructions
In a saucepan, heat olive oil over medium-high heat.

Sprinkle the chicken breasts with salt, pepper, garlic powder, and Italian seasoning. Season both sides and place chicken in saucepan.

Sear quickly on both sides. Reduce to medium heat, continue cooking until chicken is fully cooked.

Remove chicken from pan, cut into bite-sized strips.

In a large saucepan, add the heavy cream, chicken broth, butter, garlic and a pinch of salt and pepper.

Add the seared chicken breasts to the saucepan and cover. Cook on medium for 10 minutes (stirring frequently to avoid burning, reduce heat if needed) until the cheese melts and all ingredients are well blended. Set to the side until the pasta is cooked.

In a separate large pot, bring 6 cups of water to a boil. Cook the pasta as instructed on the box.

Once the pasta is cooked, drain the water. Toss the pasta and chicken alfredo sauce in a large mixing bowl. Top with a bit of salt, pepper, and parsley and serve!
No Time for Meal Planning?
Meal planning is vital to saving time and money each week. But as a busy mom, I know how easy it can be to skip meal planning. Who wants to spend Saturday morning writing a weekly meal plan? It's not much fun.
That's why I created the Smart Mom Guide to Easy Dinners. It's a 4-week meal plan for busy moms all the recipes included.

I've taken the pain out of planning your meals. All you need to do is print each weekly dinner plan with the recipes, pick-up any items you don't have in your pantry for each week and you have a week of dinner meals planned.
After you complete the 4 weekly meal plans, you can rotate them again or add a few of your own favorite recipes.
Get your copy of the Smart Mom Guide to Easy Meal Planning today.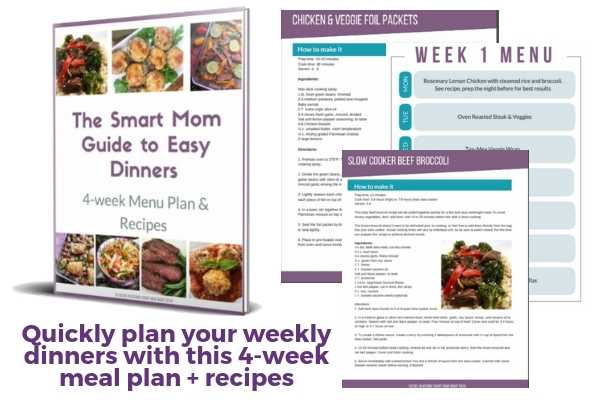 PIN IT FOR LATER: