Do you and your planner have a love-hate relationship? You love to write down everything in your planner, make big plans and have big dreams, but somehow you can't find a planner that works perfectly for you? Either it's the wrong size or the wrong color or the pages are just not formatted right?  I love using a planner (I probably use too many), but it took me a long time to find what I really liked and needed to make my planner work. That's why I recommend Plum Paper personalized planners.
If you have never tried a personalized planner, you will probably be surprised by all the options available and by how much you will love a custom planner. One of my favorites places for custom planners is Plum Paper. They offer beautiful planners you can customize and make your own.
Special Note: I would like to thank Plum Paper for providing me a planner to review in this post. All opinions here are my own.  This post includes affiliate links. If you make a purchase, I'll receive a small commission at no additional cost to you.
Why You Will Love A Personalized Planner
You can create a design that is perfect for you
I love personalized planners.  If I see a planner in a store, I just have to open it to see the design and layout.  I am always looking for new layouts and ideas.  With a custom planner, you can select a cover, layout, add your favorite pages and more. You don't have to choose between the layout in planner A and the "extra features" in planner B.  You can add both to your personalized planner.
Many custom planners have custom add-in's like fitness, budget tracking and more. With a custom planner, you get to design a planner that works for you.
You can create a planner that matches your personality
You can create a colorful cover that's uniquely you! You can add extra pages you need for planning.  If you love stickers, add the sticker pages. If you need to-do lists, add extra to-do list or note pages.
The possibilities are endless to create a custom planner you love and will use every day. The right planner will keep you organized so you want a planner you love. If you don't like your planner, you won't use it.
---
Picked for you:
---
If you want a custom designed planner, Plum Paper allows you to create and format your own planner in a style that will work just for you.  For example, need extra notebook pages, no problem.  Prefer a vertical layout, you can have that.  If you want to add a monthly to-do list, you got it!  With a Plum Paper custom planner, you will love the many features you can add that make your personalized planner perfect for you.
For my Plum Paper custom planner, I chose a smaller sized planner than I used the year before.  I love it. I also prefer vertical layouts and extra to-do lists!
Here are just a few of the features you can customize:
Customize your cover with your name, a quote, and a colorful design.
Choose 12 or 18 months.
Start your planner on any month you choose.
7-page layouts (vertical and horizontal options).  Some pages can be customized.
Add-ins like note pages, to-do lists, meal planning, and budget planning.
Business and home planning like add-ons for direct sales, blogging, photography, social media homeschooling and more.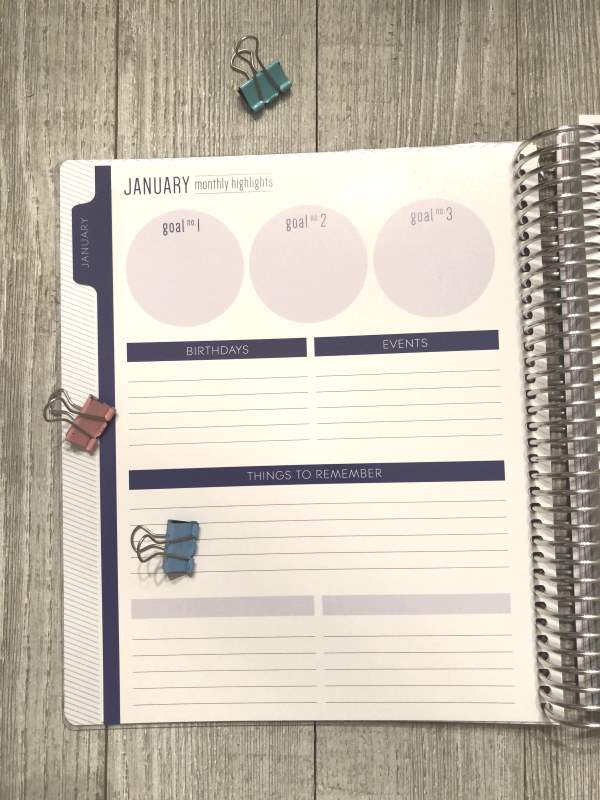 Here's a sample of the monthly goal planning page. You can set 3 monthly goals, birthday reminders, important events and things to remember. I love how this page gives me a snapshot of the month.
Additionally, you can choose your own page layouts. I love vertical page layouts with the day of the week at the top.  On these pages, you can customize the side with classes for school, projects, appointments or anything you need to remember and schedule.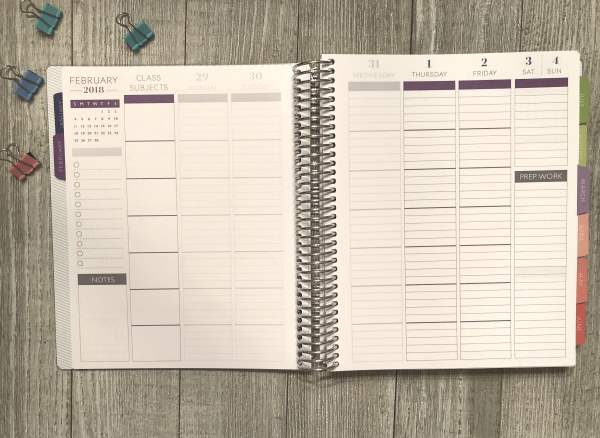 All the planner pages give you plenty of space for your appointments, important dates, and planning. You can also add special notes and reminders on the side.
If you struggle with finding a planner that fits your needs or a layout you love, I recommend Plum Paper and creating your own personalized planner. You will have many options that allow you to add what you need and skip what you don't need at an affordable price.
Give it a try, create a Plum Paper personalized planner today and tell me what you think.
Your turn…
What's your favorite planner layout? Which features are "must have" when you choose a planner?