When I go to an Italian restaurant, Fettuccine Alfredo is one of my favorite dinners. Recently, I learned you can make this classic recipe at home. It's so easy, my daughters, who are 8 years old and 11 years old, can make this recipe. Give this easy Fettuccine Alfredo recipe a try.
Not only is this recipe easy to make, it doesn't have to be a side dish. You can add your favorite veggies or chicken for a complete meal.
If you are starting to teach your kids to cook, this recipe is a great starter recipe. It has ingredients available in your kitchen, it's not complicated and it doesn't take long.  Your kids will be able to make and serve dinner to the family.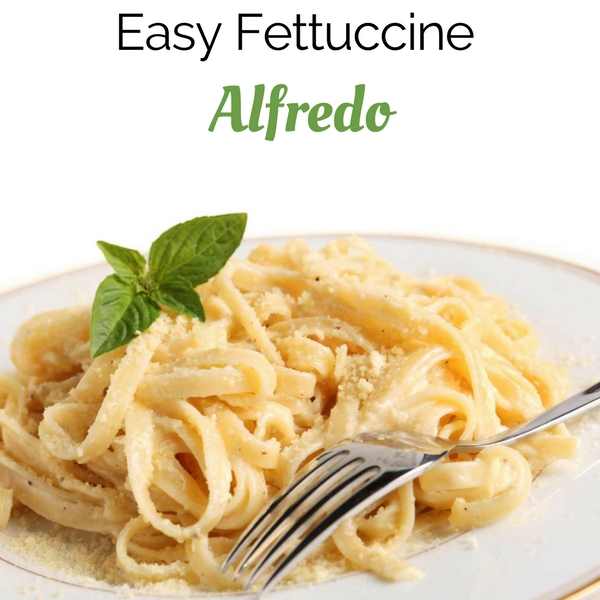 Fettuccine Alfredo
Fast & Easy Fettuccine Alfredo recipe
Ingredients
16

oz

Fettuccine, cooked

1 1/2

cups

Heavy Cream (or Half and Half)

1/2

cup

Butter (not margarine)

1/2

teaspoon

Chopped garlic

1 1/2

cups

Parmesan cheese, grated

Parsley to garnish
Instructions
Cook the Fettuccine per the instructions on the box.

While the Fettuccine is cooking, slowly warm the heavy cream in a saucepan. Mix in the butter and melt. When the butter is melted, add the chopped garlic and Parmesan cheese. Stir gently until the cheese is completely melted and blended.

Portion the fettuccine onto plates, using a large spoon, pour the alfredo sauce over the fettuccine. Dust with grated parmesan and chopped parsley.
This recipe is easy to make your own. Here are just a few ideas to customize this recipe:
Add steamed broccoli
Add mushrooms
Serve with a side salad
Add grilled chicken or shrimp
What do you like to add to your fettuccine alfredo?  Leave me a comment.
It's easy to see why Fettuccine Alfredo is a family favorite. It's easy to make and has many different variations so it's not the same every time.