It's almost 5:00 pm and you forgot to plan dinner again. Your kids are hungry and asking every 5 minutes, "Mom, what's for dinner?"  You start to look around the kitchen for quick dinner ideas. You think to yourself, there must be a better way. Dinner doesn't have to be this stressful.  The good news is, there is a better way. You can use this easy meal planning ideas for beginners guide to start a simple weekly meal plan.
In this simple guide, I'll show you how to use a meal planning template, ideas to always keep your meal planner full, easy meals every mom can make and more ways to save on your weekly grocery budget.
Note: For your convenience, this post includes affiliate links. If you make a purchase, I will receive a commission at no additional cost to you. Read my full disclosure policy here.
Getting Started with Meal Planning
You can start meal planning in several different ways. You can create a weekly plan, bi-weekly plan or monthly plan.  In your plan, you can have meal themed days like Meatless Monday and Taco Tuesday or you can have a weekly theme like crockpot week or one-dish dinners for a week.
One reason many people don't keep up with meal planning is that they think it takes too much time. I suggest starting with a weekly meal plan that you can probably complete in 10-15 minutes. Then if you want to do a longer plan, you can.
Start by downloading your FREE Smart Mom Meal Planning template with planning pages for weekly menus, shopping lists, and favorite meals/recipes.
Easy Meals Every Mom Can Make
Every mom needs a few easy meals that are go-to recipes her family will always eat and enjoy. In the Smart Mom Meal Planner, there's a page you can make a list of all your family's favorite dinners/recipes for easy reference when planning your meals. Take a few minutes and write down all your family favorite meals.
Next, take a few more minutes and write down simple dinner ideas your family enjoys like tacos, chicken fried rice, and simple Mac & Cheese.
You can also add some quick and easy 20-minute dinners to your favorites list for dinner in a hurry.
More ideas for quick & easy meals:
Salad bar – pull out all the favorite salad toppings and set them on the counter and let everyone make a salad.
Hamburger night!  Hamburgers are a favorite with my kids. They are simple to make and cook fast.
Tomatoes & rice with ground beef. I made this for dinner a few nights ago and it was ready in about 20 minutes.
Cheesy Quesadillas or add a little chicken.
Sandwich favorites – you can do deli sandwiches or hot sandwiches like grilled cheese.
I am trying to get away from the idea that meals and dinner need to be complicated. They don't have to have a meat, a veggie and a starch.  Your home kitchen is not a fancy restaurant. Don't let meals be complicated.
For breakfast and lunch, keep your meals simple. Breakfasts can be cereal, fruit or grab and go. Lunches can also be sandwiches, leftovers from dinner the night before, and salads.
If you have a picky eater (yes, I have one child that's a very picky eater), I try to include at least one thing in each meal I know he will eat rather than cooking him a completely separate meal.  It gets very tiring fixing separate dinners for everyone in the house.
Remember, focus on making simple, healthy and nourishing meals.
---
Recommended for you: Plan Your Meals Like a Pro 
---
Simple Meal Planning Ideas to Keep Your Meal Plan Full
Once you have a list of 20-30 family favorite recipes/meals, you can start filling in your meal plan with those recipes.  You may need to add a few more recipes here and there and you'll want to include a "clean out the refrigerator" night at least once a week. I also usually have pizza night on Fridays.
If you need more inspiration, check out these easy recipes and menu plans. These plans are set-up by the week, but you can always review a few of them and find a few favorite recipes to try.
When you need inspiration, don't forget to check out Pinterest.  You can find some great Quick & Easy Weeknight dinner ideas here and more meal planning tips & tricks.
Time-saving tip: Each week as you write your meal plans, save them. Then after about 6-8 weeks, you can just rotate them. You can number each plan – week 1, week 2, week 3, etc… then once you have all the plans done, just start over at week 1 and work through each week again. Do the plans once and use them again and again.
How to Save Time & Money with a Weekly Meal Plan
You might be thinking that a meal plan takes you time to write and plan.  But if you sit down on Saturday or Sunday each week and write out your weekly meal plan, you will save time by knowing what you plan to cook and save money by being able to make a shopping list to get what you need ahead time.
You can also save money by planning your meals based on weekly grocery sales.  You don't have to spend a long time analyzing the ads, just a quick review and make a note on your meal plan with what's on sale. You can work these sale items into your overall plan for the week.
Meal planning will help you save money by not only planning your meals based on the weekly sales but when you have a plan, you are less likely to go out to eat or grab dinner at the drive-through because you have a plan for dinner.
Don't forget to use your crockpot or Instant Pot too.  You can prepare items the night before, save them in your refrigerator and then add them to the crockpot in the morning before you go to work or leave for the day. The Instant Pot is great for cooking quick one-pot dinners when you get home.
Smart Mom Guide to Easy Dinner Ideas
To make your meal planning easy, get the Smart Mom Guide to Easy Dinner Ideas. It's a complete 4-week meal plan with recipes included. With this meal plan, you will:
Get 4 ready-to-use weekly menu plans
All kid-friendly recipes included
Save time and money with home cooking
Help your family eat healthy and avoid drive-thru dinners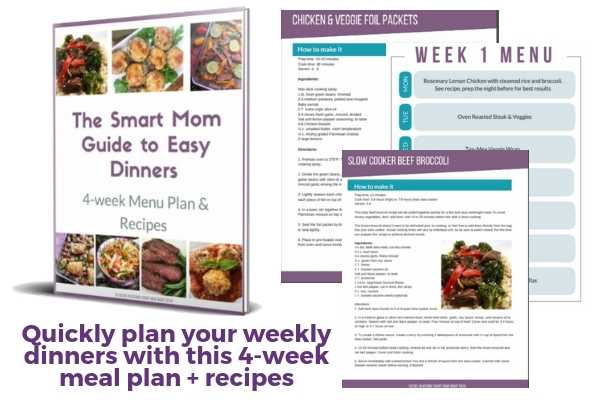 Get your copy of the Smart Mom Guide to Easy Dinner Ideas today.


Pin It for Later: