Are you considering an Erin Condren LifePlanner? Check out this review of the Erin Condren LifePlanner and Calendars for 2023 and decide if it's the right planner for you.
I have been using the Erin Condren LifePlanner for 3 years. I love these planners. These planners offer many options and formatting so you can finally have planner peace.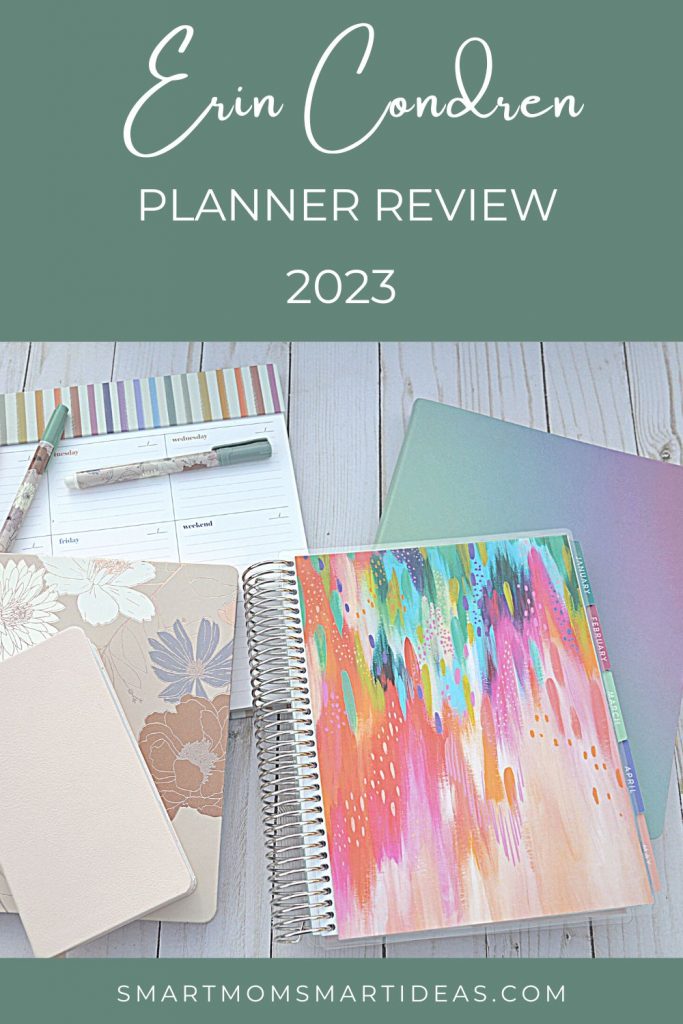 Note: I would like to thank the Erin Condren team for sharing the new 2023 Erin Condren LifePlanner collection with me. This post includes affiliate links. If you make a purchase through one of these links, I will receive a small commission at no additional cost to you. Read my full disclosure policy here. All opinions here are my own opinions.
Are Erin Condren LifePlanners worth it?
Erin Condren LifePlanners are beautifully designed with busy moms in mind. From snap-on/off covers that can be changed every month or every season to multiple interior layouts (daily, horizontal, vertical, and hourly), monthly spreads, monthly goals and reminders, and extra note pages.
With this planner, you'll find it's easy to organize your daily appointments and to-do list, set goals, plan meals, create a home cleaning schedule and so much more.
The Erin Condren LifePlanner is a complete life-organizing system.
What is planner peace?
Planner peace is when you finally find the right planner that has the right format so you will use it every day to organize your life. With planner peace, you will be excited to fill in your planner with daily to-do's and appointments and you feel lost when you don't have your planner with you.
If you struggle to find a planner that you like and will use consistently, let's take a closer look at the Erin Condren Planner collection 2023.
A Look Inside the Erin Condren LifePlanner
Erin Condren LifePlanner is the signature planner offered by Erin Condren. It's easy to see why this planner is so popular.
Complete Life Organizing System
I love how the Erin Condren LifePlanner gives you a complete way to organize your life.
Every month starts with monthly overview pages. I like to use the monthly overview page to write my goals for the month. You can use this page for important dates to remember (birthdays and anniversaries), project planning (you know that home improvement task you have been wanting to do), or just notes and doodling.
Blank writing pages can be used as you need them for notes & reminders, project management, and more.
Monthly layouts for planning allow you to see the big picture while the weekly planning pages give you details for each day including schedules, meal planning, home cleaning plans, and more.
Right Sized
The classic LifePlanner is a great size – 7″X9″ and about 1 1/2″ thick. It's easy to carry or toss in your planner tote bag for on-the-go organization.  If you like a smaller planner, you might prefer the A5 or softbound planner.

Designed to Work for You
One of my favorite features of the Erin Condren LifePlanner is the many layout options you can choose from. To start, you can choose the coiled planner (I consider this one the classic), the binder (in 8.5″X10″ or A5 size), the softbound, or the Petite Planners.
You can also choose the interior design you like: horizontal, vertical, or hourly. Plus you can pick a neutral or colorful page design.

Beautiful Colors
You will love the beautiful colors in the 2023 Erin Condren LifePlanner.
When you order an Erin Condren LifePlanner, you choose your interior colors from In Bloom, Colorblends, Harmony Colorful, and Harmony Neutral. I love the Harmony neutral with the soft pastel colors and I also like the In Bloom for the softer floral colors and designs. You will love the inspiring quotes throughout this planner. Every month has a new quote.

Finally, you receive 4 pages of color-coordinated stickers to match your planner layout. You will love adding stickers throughout your planner to highlight important dates and to make your planner more creative. Note: stickers are not included with the softbound planners.
Unique Design So It Works for You
Erin Condren LifePlanner allows you to choose your favorite cover design, page layout, colors, and start date. As you look through the Erin Condren planners, you will find over 100 different options/variables for your planner.

Make this planner uniquely you by choosing your favorite cover or creating your own amazing cover from all the Erin Condren designs, plus the Erin Condren Coiled LifePlanner covers are snap-on so you can change them. Yes, these covers stay on, I change my covers frequently with no issues.

The pages are the perfect size for adding your own fancy lettering and art to truly make each page and weekly layout your design.
But…
As much as I love the Erin Condren Life Planner, there is a but…
First, the number of choices can be overwhelming. While I love choosing and customizing my own cover, it takes time to pick one or design your own. I recommend picking a few of your favorites, then making your final choice from these favorites. Here's an easy tip, add your favorite covers to your "wishlist", then go to your wishlist and narrow your choice from the favorites you selected.
Second, if you like space for a daily to-do list, the vertical and horizontal layouts offer space for daily to-do lists. If you like a detailed daily summary, the hourly layout or daily duo would be better for you. I've used all 4 formats. My favorite layouts are the vertical and horizontal because the design fits with how I think.
Third, I love leaving my Erin Condren LifePlanner laying open on my desk. If you like to carry your planner with you, I suggest the softbound planners, because they are less bulky. The Erin Condren softbound planner and pocket planners are smaller if you like a planner for your purse.

---
Recommended for you: The Ultimate Guide to On the Go Organization with Erin Condren Products
---
Erin Condren Focused Collection
In addition to the Erin Condren LifePlanner, the Focused Collection has planners, calendars journals, planner pads, and more to help you design your focused life. The Focused Planner Collection has minimalist page layouts and designs so you can stay focused.
Erin Condren Softbound LifePlanner
Erin Condren Softbound LifePlanner is the little sister of the full-size LifePlanner. This lovely planner is available in 2 sizes: 8″ x 10″ or A5 (5.8″ x 8.3″).

This planner is perfect if you like a smaller, simpler planner with less bulk than the full-size LifePlanner, but it still has many of the same features/pages included in the LifePlanner including monthly goal planning pages, yearly goal planning, extra note pages, horizontal weekly layouts and more.
Click here to see the Softbound LifePlanner.
Erin Condren PocketPlanner
Erin Condren PocketPlanner is a mini planner sized just 3.5″ x 6.25″ easily fits your purse or tote and will keep you organized on the go. When I was in college, I loved my pocket planner to track my weekly school and work schedules.
This planner would also make a great mini journal. On each day, you could quickly write one or two sentences to remember something important about each day or write your favorite quote for each day.

The Erin Condren Pocket Planner would also make a great food journal to help you track what you eat during the day. The small size makes it great for keeping in your purse or bag.
Click here to get the PocketPlanner.
Pens, Pencils, Markers, and More…
Don't forget your writing tools. Erin Condren has markers, pens, and pencils that make planning fun. I personally love the ballpoint pens and gel pens. The markers are also very nice for designing your weekly planner layout.

Planner Stickers
Stickers are a fun way to highlight important dates, add splashes of color to your planner, and make it playful. For 2023, you have many sticker choices.
My favorite is the Sticker Book Monthly Edition 8. You have stickers for every month that highlight the season or a special holiday during the month.
The monthly sticker pack is a mini pack of stickers so you can highlight important dates, make your own monthly checklist in your planner or journal and make bullet points and flags.
See all the planner stickers here.
Weekly Desk Pad
The Weekly Desk Pad is one of my favorite planning items. I love writing my daily to-do's, goals, appointments, meal planning, cleaning schedules and so much more on my weekly desk planner. You can also get a daily planner or a cleaning planner. So many organizing options!

Recommended: More Deskpads from Erin Condren
Focused Clipfolio and Notepad
Organize like a pro with the Focused Clipfolio and notepad. The Clipfolio gives you an all-in-one clipboard, notepad, and folio. Use this clipboard for any project or task that needs a checklist like planning a major work project, coaching the basketball team, or home organizing projects.
Then use the folio design to keep your notepad protected. The folio is great to organize your papers and notes for in-person meetings.
Is the Erin Condren Planner right for you?
If you want a planner that will help you organize your life with a complete organizing system then Erin Condren Planners might be right for you. The Erin Condren LifePlanner is the signature planner that will help you plan your days and get organized. The Erin Condren Soft Bound Planner and PocketPlanner are perfect for purses and totes. The Erin Condren Deskpad is great for weekly tasks each month.