Do you want to plan a great family vacation, but you don't have any ideas for where to go? I have the same problem every year. I spend weeks struggling with an idea of where to go for our family vacation. If you need some vacation idea inspiration, here are 13 vacation ideas for families that your kids will love and will make amazing family memories.
Family vacations are important. We only have 18 years (or 18 summers) with our kids. Family vacations are a special time to spend together and make memories that last a lifetime. Family vacations don't have to be expensive, elaborate, and overwhelming.
You might even remember your own family vacation memories. Either special places you visited during your childhood, family and friends you met, or places you got to see or things you were able to do. You probably remember the wonderful memories you made with your siblings.
I remember one summer vacation, I think it was the summer between finishing college and starting graduate school. My parents took me and my younger sisters (who were in college, too) on a vacation to visit my dad's hometown in Wisconsin. I remember meeting family and seeing where my dad grew up. But one funny and special memory from this trip was the car.
The most special memory from this trip was that my parents had a small car. Every time we would get out of the car, we looked like the clowns getting out a tiny circus car. We would all joke, people must be wondering how many people are getting out of that little car. But it was a fun trip we all still remember.
Family vacations make lifelong memories. They also help build relationships between you and your kids as well as between your kids. Once they are grown, you will love the conversations about remembering that vacation when we …..
What are the best family vacation destinations?
If you are taking kids on a family vacation, you will want to have activities for them. Kids naturally have lots of energy (and when we are on vacation my kids seem to have a double dose of energy).
Here are a few family vacation ideas to keep your kids busy:
Great Wolf Lodge – These lodges are an inclusive indoor waterpark. They look like so much fun! The rooms are themed for kids. They have lots of activities for kids. You can pick from several locations across all regions of the US.
Disney World or Disney Land – As a Floridian, I love Disney. I recently took my first Disney vacation with the kids. It was so much fun. We had so much to do. The kids were exhausted every night when we would get back to our hotel room, but they had so much fun each day. Here's an easy-peasy guide to planning a Disney vacation.
Washington, D.C. offers many activities and things to do each day. Visiting Washington, DC is a wonderful experience for kids and also a chance to learn a little history.
Simplify your vacation planning with this Family Vacation Planner
Best Vacation Ideas for Families
Road Trip
Beach Trip
Explore Mammoth Cave
The Grand Canyon
Camping & Hiking
Yellowstone National Park
Gatlinburg, TN/Great Smoky Mountains
St. Augustine, Florida
Key West, Florida
Fort Sumter/Charleston, SC
Road Trip
A family road trip is a great vacation. You have so many options. A road trip can be anything that interests your family. If you live in the East, you could go West. If you live in the West, you could go East or anywhere in between.
You could also try a themed road trip like visiting Revolutionary War battlefields or all the historical landmarks between New York City and Boston.
The only limits you have with a road trip are your imagination and how far you want to go.
Years ago, one of my work colleagues would take all of his annual vacation time during the summer for about 3 weeks and take his family on one big road trip. They would rent a small RV and go camping, hiking, and sightseeing. I always thought a road trip in an RV with the kids would be fun. Each year they chose a different region of the country to visit. Traveling by RV could make your road trip a real adventure.
Beach Trip
If your family loves the water, choose your favorite beach and spend a week at the beach. Building sandcastles, splashing in the waves, and searching for seashells are fun beach activities.
In addition to going to the beach, you can go to a movie or enjoy ice cream after dinner one night. It's always nice to take long walks at sunset (and get some great family pictures at sunset).
Explore Mammoth Cave
Mammoth cave in Kentucky is the longest cave system on earth. What a great place to explore (and study science without actually saying you are studying science).
If your kids love science, hiking and exploring the outdoors, this cave and park might be a fun vacation.
Camping near Mammoth cave is also easy to find.
The Grand Canyon
Spectacular in it's beauty and amazing to see, the Grand Canyon is an unforgettable experience.
If you have never been, the Grand Canyon will amaze you. There are many ways to see the Grand Canyon. You can drive and view it at various look-out points, you can hike down into the canyon (check for restrictions and if reservations are required). You can also take a helicopter flight over the canyon or a canoe or kayak through the canyon.
While it's man-made, the Hoover Dam can be easily reached from the Grand Canyon. It's worth a visit, too.
Go camping and hiking
If your family enjoys outdoor activities, choose a vacation camping and hiking. Since I am not an outdoor person and need electricity, camping is not my thing, but I know many families that love camping and have many great memories from camping.
Yellowstone National Park
My parents recently visited Yellowstone National Park in Idaho, Montana, and Wyoming. This park is so large they spent a whole week driving through and exploring. The scenic views in Yellowstone are beautiful. Yellowstone has more than half of the world's active geysers. A visit to this park would not be complete without seeing "Old Faithful."
In addition to the geysers, Yellowstone is filled with wildlife to see, waterfalls, and a unique geological landscape to see.
Gatlinburg, TN/Smoky Mountains
If you prefer a mountain vacation, Gatlinburg, TN in eastern Tennessee at the edge of the Smoky Mountains in the southern United States. Visitors can easily find cabins in the mountains with amazing views for a quiet vacation.
If you have kids, this town offers visitors many fun attractions. Like a Space Needle, Amazing Gatlinburg Race, A Walk in the Woods, Hollywood Star Cars, a Ripley's Museum and more.
St. Augustine, Florida
St. Augustine, Florida offers families lots of history to explore plus beaches.
In St. Augustine, you can visit the Spanish Fort Castillo de San Marcos the oldest masonry fort in the United States. The Fort has a long and interesting history dating back to the 1500's.
After you visit Castillo de San Marcos, you will want to find the Fountain of Youth and have a drink. (I'm not sure about this legend of youthful water, I've tried a few times, I'm not feeling younger yet). The Fountain of Youth park also provides more interesting history of early life in Florida.
One of my favorite things to do in St. Augustine is the trolley ride tour. The drivers are very knowledgeable and provide great insights into the city's history. I have also noticed, it's not scripted. Different drivers seem to tell different stories.
Key West, Florida
I don't find Key West, Florida a place to visit for a whole vacation week unless you enjoy boating activities (and preferably own a boat or rent a boat for the week), and like snorkeling and exploring the keys. But, it's definitely a fun place to visit.
If you have a boat or way to explore the keys, hopping from key to key would be great fun.
I also enjoy the city of Key West itself (the southernmost point of the United States), but after the historic tours, I'm not sure I could fill a week of activities just on Key West, especially with kids.
Fort Sumter/Charleston, SC
As a history buff, I always favor visiting historical sites (you might have noticed from this list). Charleston, SC, and Fort Sumter offer a true sense of the South (or maybe as much as you can get today).
You can visit Fort Sumter and see where the first shots of the civil war were fired. You can go back to Charleston and walk around the battery. You can still visit some working plantations. Boone Hall Plantation is one of my favorites to visit when in Charleston.
If you have time, you can also visit Savannah, GA for more southern plantations and experiences.
Vacation Planner and Travel Organizer
I know you'll love this Family Vacation Planner to plan your amazing family vacation or road trip. This planner has everything you need to plan your perfect vacation.
Here are just a few pages included in this Vacation Planner and Travel Organizer:
A bucket list of places you would like to visit
Pages to plan each day of your trip
Packing checklist
Travel details – hotels, car rental, airlines, and more…
Top things to do and places to go
Journaling pages to remember your vacation
And so much more…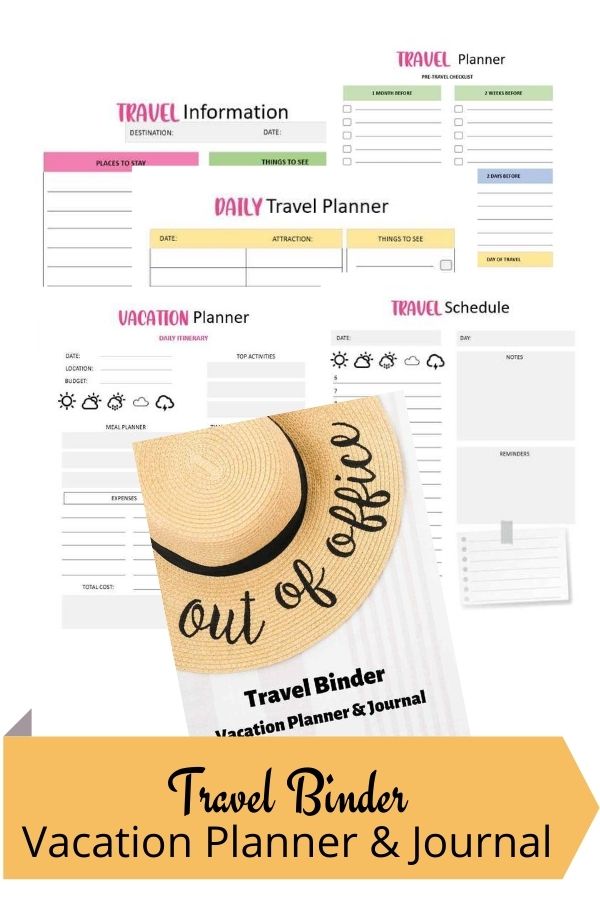 Click here to get your vacation planner today.