Dry lips. Chapped lips. Want soft and pretty lips? A homemade sugar lip scrub is a simple way to moisturize and soften your lips. This hazelnut coffee lip scrub will leave your lips soft with a sweet taste on your lips.
Note: This post includes affiliate links. If you make a purchase, I will receive a small commission at no additional cost to you. Read my full disclosure policy here.
During the winter and dry times of the year, my lips get very dry and chapped, a homemade lip scrub is a perfect solution to dry and chapped lips. A sugar lip scrub can easily be added to your daily morning or evening beauty routine that doesn't take much extra time but will make your dry lips feel so much better.
This DIY hazelnut coffee lip scrub is sugar based and easy to make at home.  You will find most of the ingredients you need right in your kitchen. Here are a few items you'll need:
A step-by-step guide to make your own homemade hazelnut coffee and sugar lip scrub
Making a homemade sugar lip scrub is very easy. You just need a few ingredients to get started.  Here's how to make a coffee and sugar lip scrub step-by-step.
Step 1: Start by adding 1 cup of sugar to your mixing bowl.
Step 2: Add 1/4 cup of coconut oil (or olive oil) to the sugar.
Step 3: Add 1 teaspoon of hazelnut flavor to the mixture.

Step 4: It's time to add the coffee. Mix in 1 tablespoon of coffee grounds or one packet of instant coffee.

Step 5: Mix everything together. The mixture should hold together. If it doesn't stick together, add a teaspoon of coconut oil and mix again.  Keep adding just a teaspoon of coconut oil at a time until the mixture holds together well.  Be careful not to add too much oil.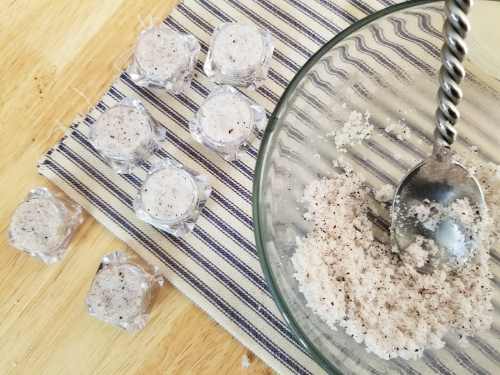 Step 6: Store the completed mixture in airtight containers for future use or you can make them to give away as gifts.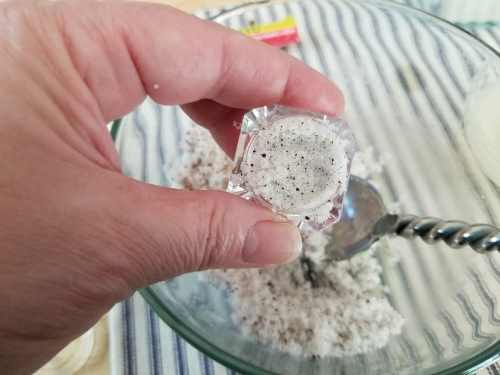 DIY Hazelnut Coffee Lip Scrub
Your lips will be soft and pretty when you use this hazelnut coffee lip scrub.
Ingredients
1

cup

of white sugar

1/4

cup

coconut oil or olive oil

1

teaspoon

hazelnut flavored syrup

you can add any coffee flavored syrup or extract you like

1

tablespoon

or packet of instant coffee

espresso or coffee grounds

Small airtight containers
Instructions
Step 1: Add sugar to a small bowl

Step 2: Add 1 teaspoon of coconut oil

Step 3: Add hazelnut flavored syrup. You can find this in your grocery store or local coffee shop.

Step 4: Add coffee

Step 5: Mix thoroughly. If mixture is not sticking together, add more coconut oil, one teaspoon at a time until the desired consistency.

Step 6: Store in a small airtight container until ready to use.
You will love this recipe because you can make variations too. Instead of hazelnut syrup, you can use vanilla flavored syrup or caramel syrup or any flavor you like that mixes well with coffee.  Try a few different combinations and see what you like best.
Posts you might also like:
How to Make Homemade Bath Bombs
Don't forget to download these 25 Self-care ideas for busy moms.
Pin it for later: