When I was growing up, I remember Hello Kitty. I loved the Hello Kitty stickers, notebooks, clothing, and more. As an adult, I am so excited to share the Erin Condren Hello Kitty & Friends collection with you. If you loved Hello Kitty as a child, wait till you see these fun Hello Kitty gifts for adults.
Note: This post includes affiliate links. If you make a purchase through these links, I may receive a small commission at no additional charge to you. Read my full disclosure policy here. Additionally, I would like to thank the Erin Condren team for providing me with these amazing Hello Kitty items to review and share with you. All opinions are my own.
Hello Kitty fans everywhere will love this Erin Condren Hello Kitty collection. Let's dive and take a look at all the adorable Hello Kitty gifts.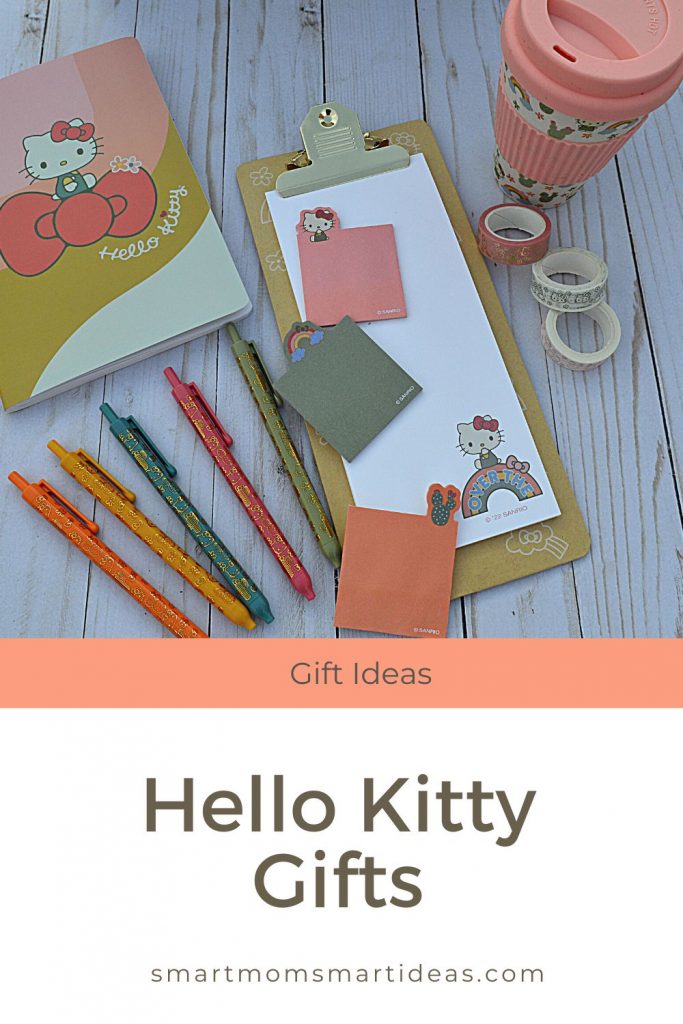 Cute Hello Kitty Planners, Journals, and more…
I wish the Erin Condren Hello Kitty collection was available when I was a teen. It would have been so much fun to have a Hello Kitty planner and Hello Kitty journal, Hello Kitty stickers and notepads and more.
The latest addition to the Hello Kitty collection is the Hello Kitty Special Edition box. I received one of these boxes. It's filled with unique Hello Kitty items.

This special edition box includes:
Hello Kitty Travel Mug
Set of 5 gel pens with a Hello Kitty design (I love these pens – they are so cute)
Hello Kitty petite journal (lined pages on the inside)
Hello Kitty washi tape (3 designs)
Hello Kitty shopping list with a clipboard
Hello Kitty sticky notes (set of three)
This Hello Kitty special edition box is perfect for the Hello Kitty superfan.  
The travel mug is about 12 ounces and includes a bamboo cup with a silicon lid and sleeve for safety and to prevent spills. Just grab this cup in the morning and fill it with coffee for the morning commute.
My favorite item in this box is the set of gel pens. These colorful clickable gel pens are great for writing in your planner or journal. The pens come in 5 bright colors.

I really like the petite journal included in this box. You can use it as a diary or personal journal, travel journal, food journal/recipe binder, and more. It's sized small enough to carry in your purse or tote.
The shopping list and clipboard will be helpful when you make a weekly shopping list. You can grab the clipboard as you look through the refrigerator, freezer, and pantry for items you need. It would be super easy to hang up the clipboard for easy updates throughout the week.

The washi tape and sticky notes are fun and can be used for daily notes and to decorate your weekly planner.
This Hello Kitty Special Edition box has limited quantities.
Does your Hello Kitty fan like to journal? Then, give them an adorable Hello Kitty notebook. Erin Condren notebooks make awesome journals, I use them for personal/daily journaling, dreams and goals, food journal, and more.
The Hello Kitty notebooks come in 2 sizes: 7″ x 9″ or 8.5″ x 11″. Pick a cute cover or pick a few covers, it's up to you. Finally, interior layouts include: college ruled lines, productivity with college ruled lines, dot grid, sketchbook, and graph paper.
Get the Hello Kitty Journal here.

Everything that comes in the LifePlanner and Hello Kitty, too! This planner is a must-have for fans of Hello Kitty and LifePlanners. This year, these planners have a unique Hello Kitty design for the cover, interior pages, and stickers.
The Monthly Planners are also available with Hello Kitty covers. I love the monthly planner for daily journaling or detailed monthly planning. This planner includes a 2-page monthly layout spread plus additional planning pages.
See all the Erin Condren Hello Kitty planners here.
One of my favorite benefits of the Erin Condren planners and journals is being able to mix and match the covers. Did you know the coiled planner covers are interchangeable? So, if you have a favorite you can use it year after year or you can change your cover every week.

Once you build up a collection of covers, you can mix and match the covers interchangeably on your planners and journals that are the same size. Wouldn't it be fun to have a new cover on your journal or planner every month?
Look at these adorable Hello Kitty planner covers.
One of my favorite items in the Hello Kitty collection is this beautiful Hello Kitty Vegan Leather Pad Folio. Inside the folio, you will find a weekly planner (9″ x 9″) and 2 shopping lists or to-do lists (4″ x 9″) on each flap. Notepads can be refilled.

These notepads are just too cute. The right and left side fold closed to keep everything neat.
Get the Hello Kitty Vegan Pad Folio here.
Don't you love these cute Hello Kitty notecards? It would be so much fun to use these cards and write short friendship notes or gratitude cards to your friends. You can even have the cards customized with a name or message.
And the cards include a reusable box perfect for your Erin Condren double-tipped markers. My mom saw this colorful circle design box on my desk and she said, "Oh, that box is so pretty." Then we opened it and she loved the cards, too.

See the Hello Kitty Stationery collection here.
Planning your weekly chores and "to-do" list fun with this Hello Kitty notepad. Organize your week by planning your daily priorities.

These pads are available in 2 sizes: 6″ x 8.5″ and 8.5″ x 11″.
Get your Hello Kitty Notepad.
Hello Kitty Planner Accessories
We definitely don't want to forget the planner accessories. Here are a few of my favorites:
Decorate your planner with these cute Hello Kitty stickers that will give your planner or journal a fun look.
Never lose your place with the Hello Kitty weekly snap-in or matching snap-in bookmarks. I love how easily these snap-ins attach to your planner and help you stay organized.
As you can see, this Erin Condren Hello Kitty collection is so much fun! Fill a box for yourself or as a gift for a friend.
How to Make a Hello Kitty Gift Basket for Her
Do you have a friend that loves Hello Kitty? Here's an easy way to make a Hello Kitty gift box.
Start by picking a Hello Kitty Planner or Hello Kitty Notebook.
Then add a Hello Kitty pen.
Next, add a Hello Kitty notepad.
Accessorize with a Hello Kitty Sticker set.
Finally, add a snap-in bookmark set.
Gather all your items and get a medium-sized basket with a pretty handle. Carefully add everything to the pretty gift basket and arrange everything so it all looks nice (you might need to add tissue paper on the bottom to support everything). Wrap in clear cellophane paper and tie with a big bow.
Now your gift is ready to give.
Don't miss the new Hello Kitty & Friends collection from Erin Condren. It's adorable and so much fun!
Are you a Hello Kitty fan? What's your favorite Hello Kitty item?
PIN IT FOR LATER: