Do you have a ceramic cooktop? When was the last time you really cleaned it – I mean more than just wiping off the top after cooking to remove anything sticky? Today, I am showing you how to clean a ceramic cooktop in 3 easy steps (and how to keep it clean).
I enjoy cooking. I especially enjoy eating a delicious meal I just prepared. I do not enjoy cleaning my ceramic stovetop after I have cooked.  Food always spills or boils over on to the stove when I am cooking. It just gets messy. Then the spills seem to become a permanent part of my stove. I decided it was time to clean my ceramic stovetop and here's how I did it.
Note: I would like to thank E-cloth for providing me the these non-scratch scrubbing pads used in this post.  All opinions here are my own. For your convenience, this post includes affiliate links.  Read my disclosure policy here.
I learned about E-cloth products about a year ago. They have become my go-to come home cleaning tool. My favorite part of E-cloth, they are designed to clean with just water – no chemicals needed.
Clean Your Ceramic Cooktop in 3 Easy Steps
When I started cleaning my ceramic stovetop, all my burners had varying amounts of burned food and oil on the edges. They looked gross!  Here's a picture, you can see the black burned food and grease around the edges of each burner.  It was time for a deep cleaning.
The first step is just start with your E-cloth non-scratch pad and water. Rub the E-cloth Non-scratch pad over your entire ceramic stovetop removing the burned materials. You will need to rub hard to loosen and clean the surface.

Use your elbow grease. Add some baking soda, if needed.
After you have scrubbed hard for about 10 minutes if your stovetop is still not clean, you can try adding baking soda. I sprinkled a good amount of baking soda on my stovetop and added a little warm water to make a paste. Then I scrubbed lightly and let it set for about 30 minutes.

If your burned areas are extra challenging to remove, you can use a nylon scraper to help your remove any tough to remove material.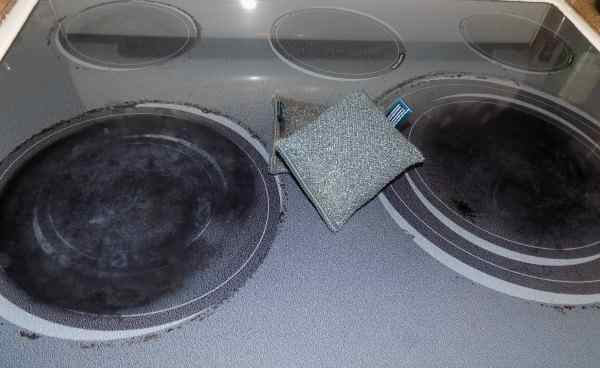 After 30 minutes, do a test area and see if the burned material will come clean.  If it does come clean, finish cleaning the stovetop by wiping it clean your e-cloth general cleaning cloth.  If some burned material is still sticking, use your E-cloth Non-scratch pad and Universal Stone (a non-scratch cleanser from E-cloth) to help you remove any remaining burns.
You rub the Universal Stone one your stovetop, and let it sit for a few minutes or an hour or two to allow it time to break down the burns. Then you just wipe your stovetop clean.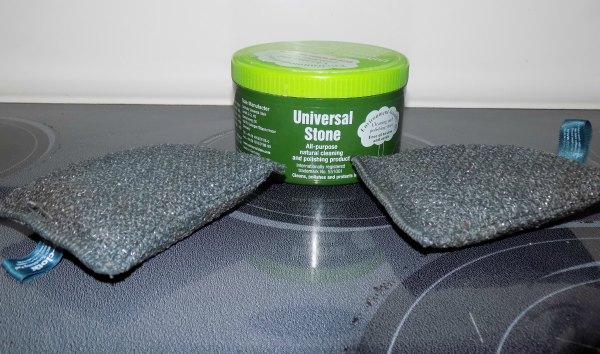 Wipe Clean to a Shiny Finish
Once you have removed all the burnt areas from your ceramic stovetop, you can wipe it clean with your e-cloth general cleaning cloth. The Universal Stone will give a beautiful shiny finish.
I really like the Universal Stone product for once a week maintenance too. It gives your stovetop a pretty shine and prevents burns and spills from building up on your stovetop.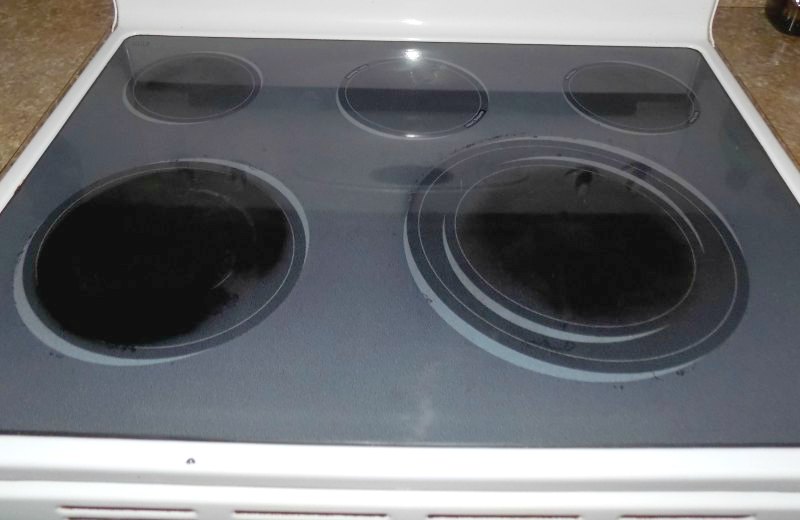 To keep your ceramic stovetop clean, wipe it down after every use. When needed use the E-cloth Non-scratch pads to remove burned materials so it doesn't build up.
The E-cloth Non-scratch pad has many uses in your kitchen. It's great for cleaning non-stick pots and pans you don't want to scratch when cleaning.  Or removing the mess from microwave spills and more.
E-cloth products can be purchased online at e-cloth.com and at your local Ace Hardware store.  Learn more about E-cloth here:
Keep those ceramic stovetops clean!