It was a long weekend. When the kids came home from school, we just tossed all the lunch bags in the pantry and forgot to empty them for spoiled and spilled food.  Big Mistake! On Sunday night when I opened one of the lunch boxes, I found a big stinky smelly mess.  But there's good news, it's not hard to clean an insulated lunch box.  Here are easy tips on how to clean an insulated lunch box and keep it fresh all school year.
Note: I would like to thank E-cloth for providing me a general cleaning cloth to use for this post. All opinions here are my own. For your convenience, this post includes affiliate links.
Kids just seem to attract sticky, gooey messes in their lunch boxes. Something will spill or they toss an opened bag of chips in the bag or the water bottle leaks and it's a mess. It happens with kids.
Fortunately, there's any easy way to keep your kid's lunch box clean. The e-cloth general cleaning cloth is your solution.
With e-cloth you are able to clean your kid's lunch boxes every day with just the e-cloth general cleaning cloth and water. E-cloth removes over 99% of all germs. These thick clothes are able to remove more germs than other cloths in just minutes.
---
Also recommended for you: The Complete Guide for Preparing for Back to School
---
Steps to Clean an Insulated Lunch Box
When you kids get home every day, make it a habit of emptying out their lunch box. Throw out food that has probably spoiled, put washable containers in the dishwasher, toss any other trash and crumbs you find. Save any pre-packaged food that was not opened and could be used another day.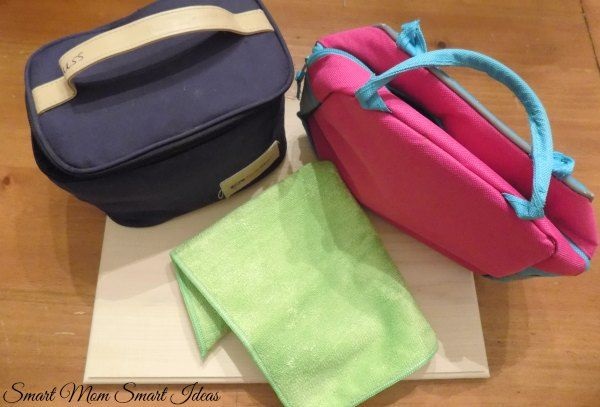 2. Completely wet the e-cloth general cleaning cloth, then carefully and thoroughly wipe out each lunch box. Be sure to remove all crumbs and sticky gooey goodness from today's lunch. This process is very easy and only takes a few minutes.  By just cleaning your child's lunch box each day with the e-cloth, you will remove 99.9% of the bacteria without chemicals (just using water).
Keeping your child's lunch box clean and germ-free is easy peasy.

3. Wipe your lunch box dry and pack a new lunch for the next day. With a clean lunch box, you are ready to pack a new lunch for tomorrow.  Be sure to pack all your lunches the night before so you will be ready for school the next morning.
4. If you should get a bad or foul smell in your lunch box try cleaning with baking soda. Sprinkle in baking soda inside the lunch box and scrub well with the wet e-cloth.  If needed, add the baking soda, shredded newspaper and close over night. The newspaper and baking soda might help remove a really bad smell.
By taking just a minute or two every day and wiping down your kid's lunch boxes with the e-cloth general cleaning cloth, you will have peace of mind that you have removed most all the dangerous bacteria hidden in their lunch box. This daily routine will also help keep your lunch boxes in top shape for the whole school year.
You can also use the e-cloth general cleaning cloth to clean many things in your home. You can wipe down refrigerator doors, remove germs from door handles, clean your counter tops and kitchen table, and don't forget the messy spills in the microwave.  You will find many useful ways to clean with e-cloth.
---
You might also like: 3 Tips for Cleaning Your Home Naturally
---
The e-cloth general purpose cleaning cloth can be purchased from e-cloth or at ACE Hardware stores nationwide.
Keeping lunch boxes clean and safe is easier than you thought.
Your turn…
How do you keep your kid's lunch boxes clean?