Hard to believe, but this week we are already finishing the first nine weeks of this school year. It's been an interesting and unusual start to the school year for us …..  We missed one full week of school due to Hurricane Irma, we start earlier than many schools (the second week of August) and it seems like more than ever my kid's grades are all over the place. I decided it was time to start thinking about how to get better grades.
How are your kids doing in school?  Does it seem like it's always a struggle to get "average" grades? If you just said "yes", I feel your pain. I really don't remember school being this hard when I was growing up. But as a mom, it's a challenge to motivate kids to do their best and get excited about school and learning.  They would much rather go fishing and play videos after school than study and do homework.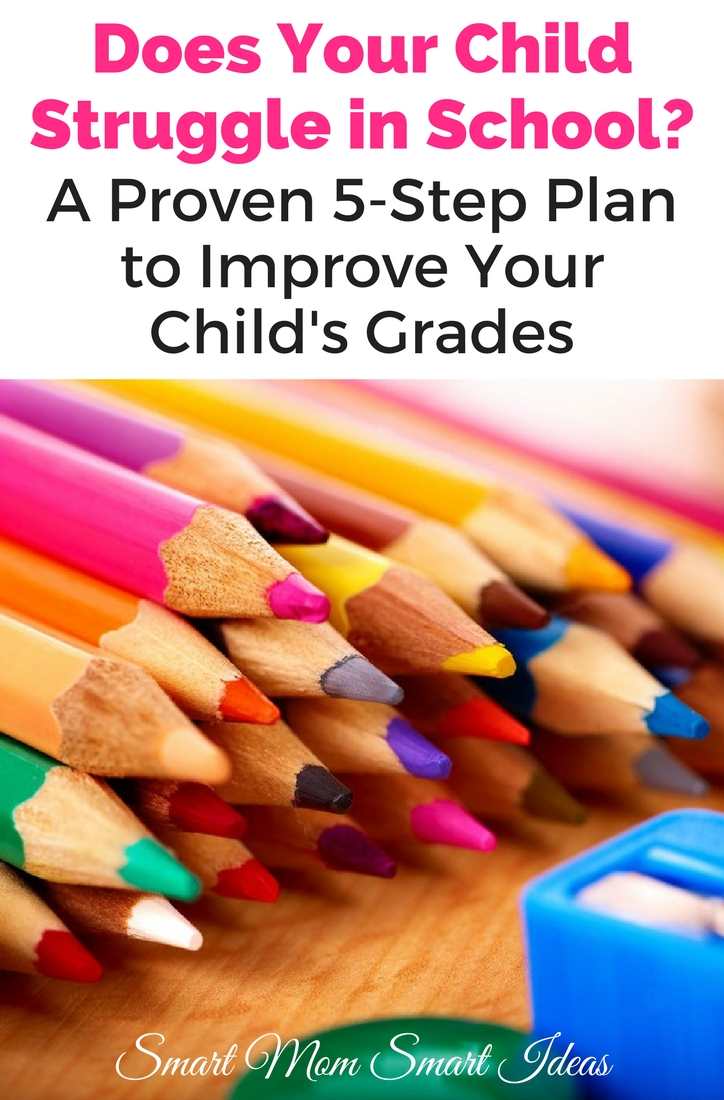 I don't like surprises on report cards. I review grades frequently during each nine-week grading period (sometimes I check almost daily for the slightest change).   Fortunately, grades are online for most schools and it's easy for parents to stay on top of grades.   Maintaining your child's grades can be a challenge, but it's even harder if you don't carefully monitor their progress weekly and sometimes daily (it's so easy for kids to get behind on assignments and hard to catch up).
With grades, you have probably noticed your children will excel in some areas but need to focus their attention to improve in other subjects.   Here's a plan I use to help improve my children's grades (even the child with the best grades can usually find places to make some small improvements).
5 Steps to Getting Better Grades
Step 1:  Review current grades
Review each child's current grades. Find out where your child is.  In some subjects, your child may be currently achieving their best.  Praise them for the hard work and success.   Check for subjects that need improvement.
Also, consider why the subject may need improvement.   Does your child struggle with spelling because they don't understand phonics?  Is math a problem because your child does not remember the steps to reach the answer or they haven't memorized all their math facts?
The first step is to assess your child's strengths and weaknesses.
Step 2:  Determine which subjects should be improved
If your child has a good grade in history or science, these subjects may not need improvement at this time.  However, other subjects such as math or spelling may not be meeting your child's ability level or they are not achieving a passing grade.   I believe a "C" is the minimum accepted passing grade.  But generally, my children can do better than a "C" in most subjects.  It's frustrating as a parent that even though I know my kids are able to get "C's" or better, they don't always achieve even this minimal passing grade.
If your child is struggling in a few subjects, focus on only 1-2 subjects for improvement at a time.  If you are focusing on one area to improve, you will be doing extra work and spending extra time completing assignments.  If you try to fix everything at once, you may overwhelm your child, and not make much progress or improvement and frustrate yourself.
Sometimes it may be necessary to work on multiple subjects at once to reach achieve the results your child needs.  One of my children struggles with just about every subject. It's very hard for me as a parent. I feel this child should be getting better grades and I want this child's grades to reflect what they know.
If you feel your child is learning the lessons and material taught in class, maybe a focus on test-taking strategies, time management or keeping school assignments/projects organized would be more beneficial. Many times kids struggle with tests because they don't know the right strategies to answer the test questions. In other words, they aren't good test takers but they know the material.
For your children with mid-range grades, extra study may be needed to maintain current grades or to make slight improvements.  For parents, it's a balancing act achieving the right amount of study and not overwhelm and discourage our children.
Remember, your child is not you. They will not get the same grades you got. It's important to focus on helping your child do their best, not the best you could do (this is a hard lesson for moms, me included).
Step 3:  Set reasonable goals
You and your child should review the current grades and set goals.  The goals can be to improve by the next report card or end of the school year.   Goals should be reasonable.  If your child has a D in spelling, it's not reasonable to expect an A by the next report card, but it is reasonable to expect a C (even just a C-).  Help your child understand it's important to set a goal and show improvement.
Set goals your child can achieve.  As your child reaches these goals, praise and celebrate their success.  Help them feel successful as they reach these goals.
Step 4:  Design a plan to reach the goals
Once you have set goals with your child, plan specific ways to meet the goals.  For example, if your child needs to improve math facts, plan to review flashcards 10 minutes a day, write math facts 5 minutes per day and practice speed with a computer game or app 3 days per week.
Here's a sample grade improvement plan for one of my children:
History – Add more timelines and visual learning to study for tests and quizzes.  Improve grade to a C.
Science – complete all homework on time, study for tests and quizzes in a visual format when possible. Improve grade to a C.
Math – continue working to memorize math facts; use a tutor for help with weak areas.   Improve grade to a C-.
Spelling – learn ways to visually learn spelling words, do practice tests.  Improve grade to a C-.
Handwriting – continue to improve handwriting.  Must be neat and able to read at all times.
Keyboarding – start learning keyboarding skills.
Create your own daily success plan. Download this free daily plan for after school success. Help your child plan their study time and set goals.
Step 5: Evaluate progress and set new goals
With each report card or progress report, evaluate if the goals have been met.   Set new goals or adjust the current goals to continue progress.   Continue these steps as needed until all goals have been met.
As your child's grades change, you may notice you need to increase or reduce study in some areas.  Constantly monitor grades with your child's goals so adjustments can be made quickly.
What if your child already has Straight A's or excels in all subjects?
Encourage them to expand their knowledge by reading more.   Read classics, biographies, history, and fiction.
Challenge your child with straight A's by helping them see new things they can learn and new skills they can practice.
None of us have learned everything we can learn. None of us have read every great book.
Set a great example for your child by being a lifelong learner yourself.
Note to Moms of Children with Learning Disabilities
As the parent of a child who has a learning disability, you will probably find yourself struggling to help your child and frustrated with teachers and school principals who frequently don't seem to understand or give you solutions and recommendations that rarely seem to help.
I've been there. It's easy to take your focus off your child and start blaming teachers and the school. But blame doesn't help anyone. Try to find your own answers and don't stop testing and trying ideas that will help your child improve in school and also master basic life skills.  Here's a few books I have found to be very helpful in my journey:


Remember mom, your child's grades are not a reflection of you personally and poor grades don't make you a bad mom or your child a bad person.  More likely, poor grades mean that your child doesn't understand how the teacher teaches the material or they don't thrive in an "institutional" school setting, and they need extra help and guidance from you during these years.
Your Turn….
How do you help your child improve their grades?  What are your best study methods?