Is Your Home Office Working For You or Against You?
For months when I looked at my home office, I would say to myself this office needs to be organized and the clutter needs to go, my home office was working against me.  All the paperwork, forms and mail that no one wants to handle end up on my desk.   It doesn't take long for important papers to get lost.  I decided it was time for a change.  I had to declutter and organize my home office so it would work for me.
It's week 9 in the series, Organize Your Life in 52 Weeks.  Each week we are organizing a specific part of your home or your life.  This week we will be organizing your home office.  If you missed any of the previous posts, you can read them all on the Organize Your Life page.
A disorganized and cluttered workspace makes completing your work challenging and adds stress.  If you have too many papers or folders everywhere, you are likely to lose papers and notes or forget important dates.  Don't let your home office work against you, make it work for you. Let's get your home office organized today.
Secrets to an Organized Home Office
1. If your office is currently cluttered, take the time to declutter the desk and remove things you don't need
Before you can start organizing your home office, you have to declutter first. I started by clearing my entire desk.  I threw out papers and reports I did not need, I filed items, and I put things back in the right place.
The main reason your home office is not organized is clutter.  We hold on to too many things and they stack up everywhere till we feel like we are drowning in "stuff".
The first step to organizing your home office is clear all your clutter.
2. Take Action on Items You Have Avoided
Please don't tell anyone else this little secret, but I have a bad habit of putting papers on my home office desk to handle later, then I just forget or never do anything with them.
When the mail comes, I will sort it but I don't always act on it.  I receive an invoice or letter that I need to call the vendor, but it's 6:30 pm and they are closed.  So I decide to call tomorrow, but by tomorrow I forget (or I just don't want to deal with an automated phone system trying to reach a real live person).
When I decluttered my office desk, I found several of these letters I had just put to the side.  I decided it was time to get this job done.  You know what, these vendors have phone operators even at 5:00 am.  I guess that excuse about no phone support is not going to work anymore.
3. Only Keep Essential Items on Your Desktop
Now that you have cleaned the clutter from your desk or workspace, decide what items are essential for you every day.  From this group, decide what you will keep on your desktop.  I like everything at my fingertips all the time, but in your workspace this will create clutter.
If you keep only the essential items on your desk, you will feel less cluttered and less overwhelmed.  My desk has a hutch, so I moved books I am planning to read soon and reference books (i.e. the dictionary) to the shelves on the hutch giving me a more open desk area.
4. If you Have Written Notes, Keep Them All in One Notebook or an Electronic Notebook
Little notes everywhere.  Sticky notes, scribbled notes, I have a great idea and I write it down, but then I have hundreds of pieces of paper everywhere!
Keep your great ideas organized by writing them all in one notebook, you could call it your "Idea Notebook", then you have all these great ideas in one place and you can check them as you need them.
You can also set-up accounts to keep electronic notes on Evernote, OneNote or Trello.  I am working to move my note taking to more electronic with Evernote.  Evernote has many apps for computers, phones and tablets so you can access your ideas or add new ideas anytime.
5. Use Organizing Tools, but Not Too Many
Stay organized with simple organizing tools like pen holders and drawer organizers.  Having one place to keep all your pens and pencils will make it easier for you to find them when you need them.
Don't forget to organize business cards and other important contact information.
Organizing tools are great, but if you have too many your desk will be cluttered again with too many organizing tools.  Use only essential tools for your organization.
6. Keep Your Planner on Your Desk to Organize Your Time
A written planner is a highly effective way to organize your day.  I have my calendar open to the current week so I can add additional tasks and remember my plan for the week.
Using a planner daily will help you stay organized, focused and on the most important tasks.  If you find yourself getting lost on social media for too long or you don't know what to do next, use a planner to help you focus.
7. Clean up Your Desk Everyday
After you have done all this work to clean-up and organize your next, you want to keep it neat and organized every day.  Before you leave your home office or end your work day, clean-up your desk.  Don't let the clutter, sticky notes and disorganization start to build up again.
A quick 3-5 minute clean-up daily will keep your home office organized.  You may do some of the steps above like taking action on the items you avoid and only keeping the essential items on your desk daily.  These secrets will help you keep your home office organized and you more efficient.
Don't wait, get organized today.
Simplify your home cleaning with the Smart Mom Home Cleaning Planner
Do you struggle with home cleaning tasks or knowing where to start cleaning? Get the Smart Mom Home Cleaning Planner with 12 Done-for-you checklists to clean every room in your home including your home office!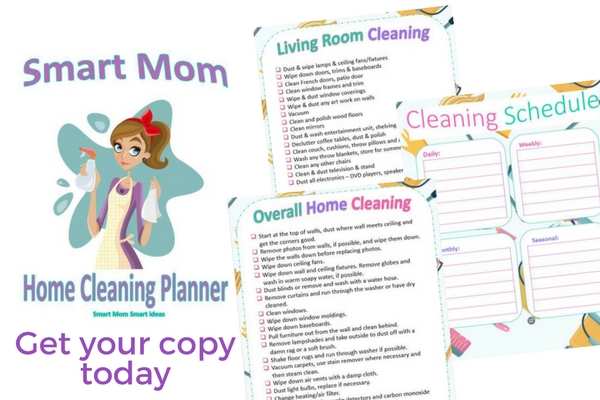 The Smart Mom Home Cleaning Planner is just $7 and will make your home cleaning stress free. Get your copy today.
Your turn…
How do you keep your home office neat and organized?  What is your best organizing tip?