When you started blogging, you probably thought you would just be writing and sharing your stories and recipes. But blogging is so much more than just writing; it's an on-going and evolving process.  When you started blogging, you were probably surprised to learn that updating and improving your blog is a continual process.  Here are 15 simple updates to grow your blog.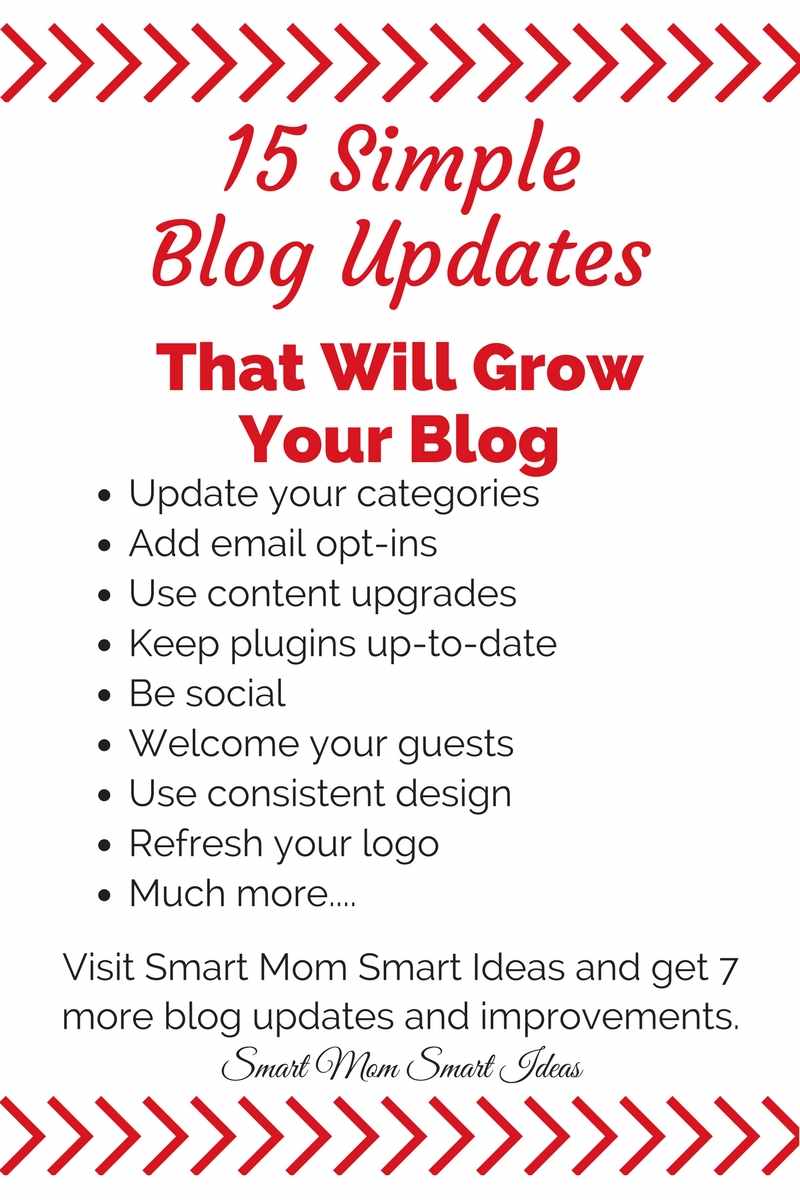 For most bloggers, growing our blog is important. We want to increase our traffic, we want to grow our email list, we love an engaged audience and we ultimately want to make money from our blog. These 15 blog updates will help you make an attractive blog that will grow.
15 Simple Blog Updates You Can Make Today
1. Update Your Categories
The categories on your blog guide your audience. They help your audience find the content that they are seeking answers to. It's important your blog categories describe your content.
Typical blog categories might be recipes, home organization, time management, and parenting.  I recently read an email about making your categories answer your reader's questions.  I updated my categories to be more interesting.  For example, my blog categories changed like this time management became time well spent, home organization became simply organized, parenting became be a better mom.
Take a few minutes and think about your blog categories and see if they need to be updated or renamed. Try to make your category names solutions to problems your readers need solving.
2.  Limit Your Categories to 4-5 with a Few Subcategories
Once every year or two, it's important to spend time reviewing your categories, consolidating your categories and ensuring your blog has a clear focus.  A well-defined blog will usually have 4-5 main categories and then 3-4 subcategories that directly connect to each main category.
With subcategories, you don't have to have a subcategory for every category.  I don't have a sub-category for budgeting/managing your money well.  But I do have several under time management/Time Well Spent including goal setting and bullet journals.
Be sure your blog categories and subcategories are closely linked and make sense.  If you find ones you no longer use, remove them from your menu and reclassify the posts in that category.
3. Have An Email Opt-in on your Sidebar or Top of the Page
First, you don't have email opt-in's or you aren't building an email list, you should be.  Your email list is the most valuable part of your blog.  If you haven't started building an email list, start today.
To get people to sign-up for your email list, some of the best places to offer an opt-in are "above the fold" or any place on the web page that you don't have to scroll to see the offer.  Usually, you will have an offer on the sidebar near the top of the page.
Additionally, you can offer an opt-in at the top of the page like using a Hello Bar or plugin.  My theme offered space for a widget above the header, and I hand code the offer I include at the top of the page.
Another great place for opt-in offers is at the bottom of the post.  These offers also convert well.
4. Use Content Upgrades
The best converting offers to build your email list are usually content upgrades. A content upgrade is an offer directly related to the post.  For example, if you write a post about meal planning, you might offer a menu planner with the post as a content upgrade like this post.
If you write content on similar topics, you will find that you can use the same content upgrades on 2 or 3 posts, you don't have to create a new content upgrade.
5. Keep Your Plug-ins Up-to-Date
When you log-in to your WordPress blog, you will usually see a list of plug-ins that need to be updated.  It's important that you update your plug-in for the security of your blog.
Hackers can access your blog through old and out-of-date plug-ins.  One step in keeping your blog secure is keeping the plug-ins updated.
6. Remove Plug-ins You Don't Use or Need
Have you ever downloaded a plug-in to test it or work with for a day or two and then decide you don't like it or it doesn't work like you need for it to work? If you aren't using the plug-in, you should delete.
Old and unused plug-ins don't need to hang out on your site. If you are using it, delete it. Then make it your habit as soon as you decide to stop using it to delete it.
7. Be Social
Part of being a blogger is being social.  Share your posts on social media and include social sharing on your posts and pages.  You can also have social media buttons on your website that just allow people to like or follow you.
8. Have a Picture of Yourself and Welcome Your Guests
A picture of you adds a warm welcome to your website. The picture lets people know who you are and who is sharing these ideas with them.  Welcome your guests to your site with a friendly "hello" and tell them you are glad they are here.
9. Simple Footer Widgets
Keep the footer simple. Don't overwhelm with too much information in the footer. Items you can include in the footer: an Instagram feed, important pages (disclosures, contact me, privacy), copyright notice, a few important posts to visit.
10. Have a Consistent Design
Choose consistent fonts and styles for your blog.  To create a consistent brand, you need set fonts and styles for your pictures and art.  If you don't already have fonts and styles for your pictures choose 2 or 3 fonts that blend well together and use those fonts on your blog logos and picture design.
Just as it's important to be consistent with your fonts it's also important to be consistent with your color scheme. Select 2 or 3 colors as your blog colors and use these colors through your blog. Don't know what colors work well together, try one of these 50 color combinations.
11. Update One Old Post a Week
It's important to continually update and revise old posts. When I look back at some of my original posts, I usually see great written content, but sometimes the pictures are poor or the fonts are bad and they need to be updated.
I try to update one post a week. When you update a post, you simply review the content make any edits, add or update the photos including making a new pin for Pinterest and save it.  You can keep the original post date or update to the current date and send the post to the top of your blog posts again.
12. Create a 30-Day Editorial Plan for Your Blog
As bloggers, we spend significant amounts of our time writing.  Having a clear editorial plan for the next 30-days will help you define your writing and who you are writing too.
Download this Blog Editorial Planner to help you define your blog posts for this month and use it again every 30 days.
13. Give Your Logo a Refresh
Have you updated or refreshed your logo and tagline recently? If you decided to change our color scheme, you will also need to update your logo.
Making simple tweaks to the color, font and or by adding art to your logo can give you a new look. Remember, you don't want your logo to be too big.  A bigger logo takes up more page space and takes away from your top posts.  Make it large enough to be attractive but not so large it's overwhelming.
Usually, your theme will give you the correct dimensions for your logo or header.  Be sure to check in the customizations for the correct header size before uploading. You can create a header with the correct dimensions.
14. Update your 4o4 Page
A 404 error happens when a page is missing or the post was deleted.  Do you have a 404 page redirect? It's easy to fix with a plugin.  I recently updated my 404 page errors with the Genesis 404 Plugin.  I also updated the 404 page to make it easier to get back to the home page or reach some popular content.
15. Learn to Use Pinterest
For many bloggers (myself included), Pinterest sends us a significant amount of traffic every day. If you have not learned basic Pinterest skills, now is a great time to start.
Take my FREE 7-day Pinterest course and learn:
How to set-up your account
Basics of using keywords
How to create beautiful pins
Becoming an Active Pinner
Start your FREE Pinterest course today.
These 15 blog updates are not fix them and forget them. You need to review these 15 improvements once a quarter or at least once every 6 months.  You might not change everything every time, but you will review them and make sure everything still fits with your blog, what you write about and most importantly your audience's interests.