Summer is one of my favorite times of the year. It allows for a relaxed routine, time for fun and best of all no homework! For busy moms, we also want to keep your kids active and learning during summer too. Today, my friend Tanya from Mom's Small Victories is sharing with us how to use a summer bullet journal to keep our kids active and busy all summer (and it's a fun way to teach time management skills, too).
Summer can be a wonderful time of year. With the kids off school and home all the time, we get to spend a lot of quality family time together. But for moms, it can also send us in a bit of a panic because we are spending A LOT of family time together.
It reminds me of the Everybody Loves Raymond episode when Ray is describing the advantages of marriage:
Look, you want to know what marriage is really like? Fine. You wake up- she's there. You come back from work- she's there. You fall asleep- she's there. You eat dinner- she's there. You know? I mean, I know that sounds like a bad thing. But, it's not.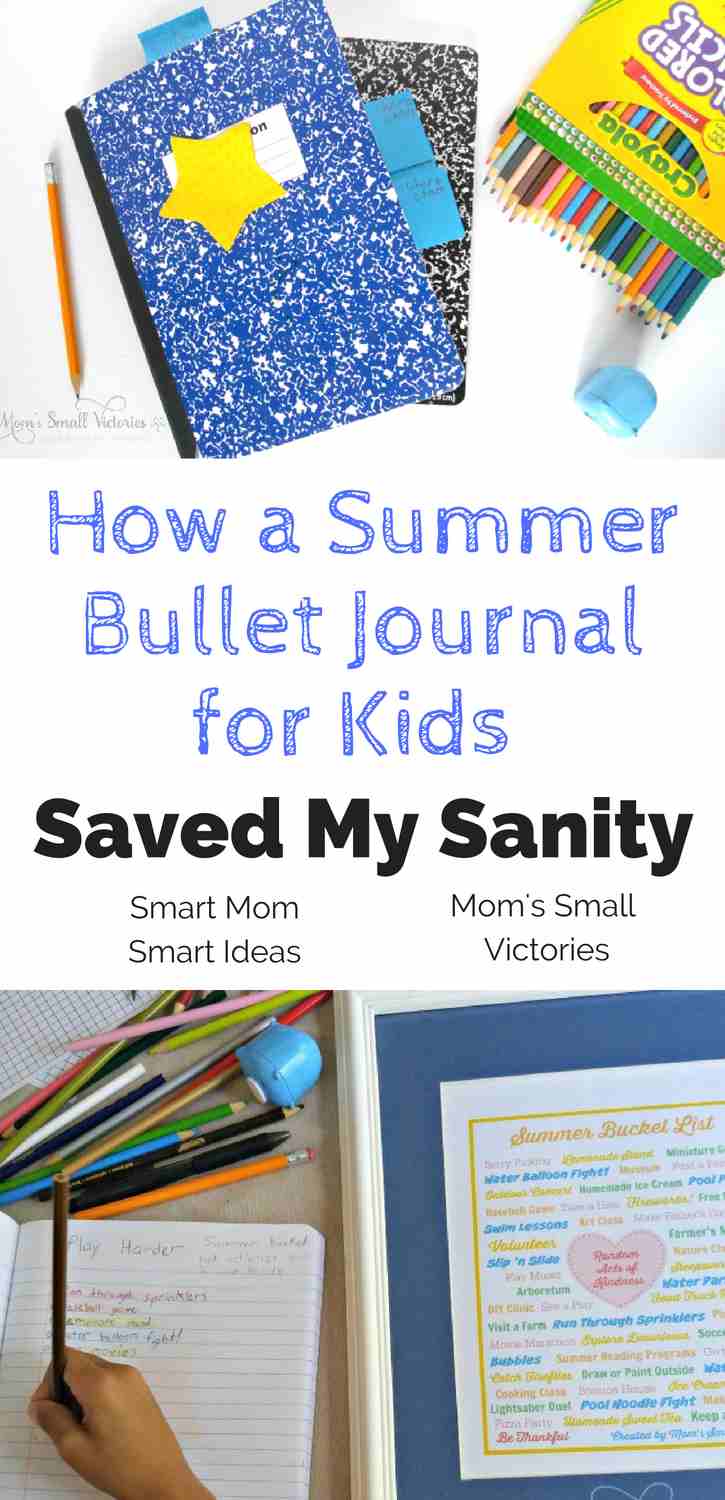 That's how summer time is, the kids are always there. Always asking questions, always snacking, always wondering "what can we do now?" or "mom, can I have screen time now? How about now? Is it time for screens yet?"
Last summer, I decided I needed a solution. A better way to keep 3 active, inquisitive, creative boys entertained without losing MY sanity. Having a summer bullet journal for the kids worked like a charm and I hope you'll give it a try and see if it works for you too!
How to Make A Summer Bullet Journal
 About Bullet Journaling
If you haven't heard of it, you can head here to learn the basics about bullet journaling. In a nutshell, it's a system for keeping track of all of your appointments and lists (called collections) of things you need to remember or want to do.
The bullet journal can have as many lists as you want and you can make it as artistically creative or as functionally simple as you want. My kids are much more artistic than I am and the journal can cultivate that creativity without them even realizing it.
 The Benefits of the Summer Bullet Journal for Kids
Before we get into the nitty gritty of how we setup our summer system, let me tell you the awesome benefits of this our simple system. We started doing these bullet journals last summer and I was completely amazed at how well it worked. Why?
Because, my kids:
Took ownership and accountability for their day (they decided in what order they needed to get things done)
Had well-balanced days between productivity and fun
By the time they finished everything, some days it would be 4pm before they even ASKED for screen time
Whined less about being bored
Learned to work hard so they could play harder (that's my motto after all).
Didn't suffer from summer slide when they went back to school in the fall
Less whining and more fun? Absolutely! The summer bullet journal for kids totally saved this mommy's sanity!
---
You might also like: Are You Raising Lazy Kids? Make these Changes Now
---
A Peek Inside Our Summer Bullet Journal for Kids
So what do you need to setup a bullet journal? That's the beauty of it! Whatever you already have lying around the house will work just fine!
A notebook
A pen or pencil
Colored pencils, crayons or marker (optional)
You know those gazillion composition books that come home partially used? I save them all for drawing/writing paper so it doesn't get wasted. We just repurposed a few for our summer bullet journals for my 2 younger boys. Nothing fancy or Pinterest worthy here, just practical and easy.
Here are the main lists we have in our journals and I'll tell you a little about each one.
Index
Monthly Calendar
Chore & Activities Chart
Work Hard list (the chores they can do to earn extra money)
Play Harder list (what they want to do from our Summer Bucket List)
Favorite Summertime Memories
Books I Want to Read
Movies I Want to Watch
Reading Challenge (books I challenge them to read, especially books  to Travel the World in Books with me, classics and books outside their comfort zone)
Travel the World in Books Reading Challenge Map
Index
The index is what ties to the bullet journal system together so you can find your multitude of lists when you need it. It typically goes in the very beginning so it's easy to find.  Number each of the pages in your journal. Then on your index page, write in the page number and description of what the list is for.

Monthly Calendar
The bullet journal system uses a no-frills rapid logging technique. The point is to get it down quickly out of your head so you can spend more time on getting things done. So the monthly calendar is simply a page to write down the days and dates and any appointments, birthdays, etc. we know about. You could certainly draw or tape in a standard format calendar if you prefer.
This helps the kids see what we have going on on any particular day. The teen has access to our family Google Calendar but the little ones don't. If I want them to independently complete their tasks, they have to be able to plan around it. The calendar helps them be informed so they can be prepared for what's in store for that day.
Though they are not in formal swim or piano lessons, my teenager will be teaching his younger brothers swimming and I will be teaching them piano. I still put the swim and piano lessons in our schedule so we stay committed to it just as if we had to go to the class.
Chore and Activities Chart
My middle son wanted this to be called his "chore chart" but the format is the same as the bullet journals' habit trackers. This is the golden ticket here, smart moms. I basically tell the kids they have to finish everything on their chart before they can have screen time, don't even ask till it's all done. I've got both their daily and weekly chores on this list. You can grab your FREE chore charts here.
This is where I balance their productivity and fun. Some of the things they need to complete daily are:
60 minutes of exercise
30 minutes of reading
30 minutes of writing
30 minutes of creativity (drawing, painting, playing piano or guitar, building with Legos)
30 minutes of helping mom
I don't set a timer, micromanage how they are getting it done or dictate to them what they need to read or write, they are responsible for doing it themselves. Often times, we are at the pool for longer than one hour of exercise or when they start reading, drawing or playing Legos, they lose track of time and are wrapped up in their own little imaginative world. Who am I to stop them? So they play and have fun and when they realize they've done enough or get bored, they pick something else to move on to.

Work Hard List
"Work Hard, Play Harder" is our motto for this summer. I want the kids (and myself) to get our work done so we can fully focus on having uninterrupted fun. There's no bigger drag then saying, "sorry kids, we have to stop this epic water balloon fight to go in and practice our writing." Yea, that won't win me any points in the cool mom department and it certainly won't make them love writing.
So this list is made up of things harder than their usual chores and activities from above. Depending on how well they do it, they could earn some extra money. The things I need help with and sometimes dread doing are on here:
toss expired coupons
pull weeds
help with yardwork
help with decluttering
help mom with blogging (I have 3 mini virtual assistants here, surely I can find tasks they can help with)
filing paperwork
organizing photos and artwork into albums
Think about your biggest projects and simple ways the kids can help. All these little things can add up to a great deal of progress on a project. They want to do a good job to make me proud and I certainly appreciate the help!

 Play Harder List
Summer is about staying up late and having so much fun that the kids fall asleep easily from pure joyful exhaustion. So I asked each of my boys to write down their favorite fun, free and frugal ideas from our FREE Summer Bucket List printable onto their Play Harder list.

They can always add their own ideas too but the printable is there to get their little minds going. As a SAHM, we're on a single income and don't enroll the kids in fancy, expensive summer camps. That's ok, we have a fabulous time at Camp Mom doing the things they want to do!
Favorite Summertime Memories
Keep track of their favorite memories from the summer on this page. It can be written or they can draw little pictures with captions. A fun way to reflect on the summer and appreciate the joy in the everyday. They can complete this daily or weekly.
Books I Want to Read and Movies I Want to Watch
We head to the library at least once a week in the summer. It never fails, as soon as we leave, someone will say, "Oh, I forgot to see if they had this book!" The Books I Want to Read Tracker will help the kids and I keep track of what we need to request from the library and they can mark them off when they are done.
Similarly, every Friday is our Family Movie Night and our local movie theater offers free kids' movies on Tuesday and Wednesday mornings during the summer. The Movies I Want to Watch is a fun page to keep track of what we want to watch on Netflix or in the theater before they are gone.
Reading Challenge
I'm an avid reader and I want to encourage my kids to love reading. One way is to make sure they have constant access to books, our bin of library books is always full. Another way is to challenge them to read books beyond their comfort zone or usual genres.
I challenge them to read both specific titles and genres. Their reading challenge lists are dependent on their age and what they are reluctant to read or what I want for them to progress in their reading ability right now.
I offer them a little extra monetary incentive to sweeten the deal and hope they actually love once they give it a try. For example, my youngest reader, his challenge may be as simple as 50 cents for every chapter book he reads (I'm thinking like Junie B. Jones or Geronimo Stilton).
My middle reader loves to read but refuses to read Harry Potter because he didn't like the movies much. I absolutely loved the books and think he'll change his mind once he reads them. I mean, who doesn't love the Harry Potter books? Last summer, he read and enjoyed the first book. So this summer, I'm challenging him to read the rest of the Harry Potter series, $1 for each book or $10 to finish the series (his list is pictured below).
For my teenager, he's lost his reading mojo a bit. As he's become busier with school and sports, he has less time to read. As a kid, he just devoured books, particularly fantasy and magical stories. I'm challenging him to read more classics and nonfiction, his reward depends on the length and complexity of the book.

 Travel the World in Books Reading Challenge & Map
I co-host the Travel the World in Books Reading Challenge on my blog to encourage readers to read about different countries and cultures from their own. While the challenge is geared towards adults, the kids can totally participate too. In fact, it's perfect for parents who don't have time to read for themselves to explore the world with their kids and learn about different countries and cultures together.
To help keep track of where their reading adventure takes them, I printed up this world map and taped it into the bullet journal. They color in the location of where the book took place for every book they read. Hopefully, this encourages them to make the map more colorful by picking books in different locations and it's a mini geography lesson too. On the back of the page, they can write in the book title, author, location and a star rating or mini review of what they thought of the book.

Well, there you have it a peek inside our summer bullet journal for kids. I was amazed at how this simple notebook was a perfect tool to teach my kids some independence and helped them be creatively productive. I saw a drastic change in how they were self-motivated and focused to get their "chores" done. I got less whining about them being bored or not knowing what to do and let's face it, that in itself saved this mommy's sanity!
Thanks Rachel for inviting me to be a guest on your blog to share my smart mom idea on how to use a summer bullet journal for kids to save my sanity!
Your turn…
Do you use a bullet journal for yourself or your kids? How do you manage your kids' summer schedule and activities? What do you do to prevent summertime boredom? Please tell me in the comments and let's share ideas to help each other out!