Finally, a simple meal plan for moms so you can make dinner in 30 minutes or less and feed your family fast.
Do you ever wish that someone would write a meal plan for you?  
Do you spend hours searching Pinterest for kid-friendly family dinner ideas?
Do you want to stop serving processed foods and boxed meals for dinner, but you don't know where to start?
Would you love to have a list of quick and easy dinner ideas that your family will enjoy?
Do you wish you had a go-to weekly meal plan that would save you time and money on your weekly grocery bill?
The Smart Mom Guide to Easy Dinner Ideas is the family meal plan you have been searching for. It's a complete 4-week meal plan with quick and easy dinner recipes your family will love, it will save you time and money meal planning and end your dependence on processed foods.
Here's what you get with the Smart Mom Guide to Quick and Easy Dinners:
4 weekly dinner meal plans (28 dinner ideas total)

Delicious kid-friendly recipes for every dinner

Quick and easy dinners you can prepare in about 30 minutes

Save money on groceries each week with a ready to use meal plan

Less time planning and preparing meals means more time for things you enjoy
The Smart Mom Guide to Quick and Easy Dinners was created for busy moms that don't want to spend a long time in the kitchen every night but want to provide their families with a delicious homecooked meal.  Here's a sample of some of the recipes included:
Easy Hawaiian Chicken Kabobs

Oven Roasted Steak and Veggies

Oh So Easy! Taco Bake

One Pot Turkey Chili

Chicken Veggie Foil Packets

Homemade Chicken Tenders and Broccoli

4 Cheese Grilled Cheese Sandwiches

Easy Spaghetti and Meatballs

Meatloaf Muffins

And more….
Every dinner idea includes a simple recipe so you won't need fancy cooking skills.
Most dinners can be completed in 30 minutes or less plus a few slow cooker dinners. No need to look up recipes on Pinterest or find ingredients. It's all included.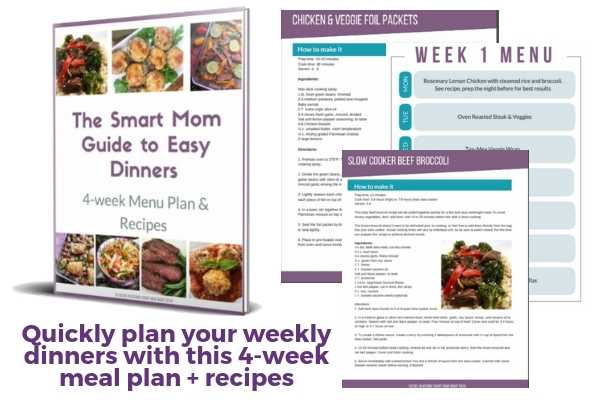 Simply plan your meals once a week by printing the weekly meal plan and recipes, then check each recipe and make a list of the ingredients you need for the week plus any other grocery items you need and do your grocery shopping once a week.  
The Smart Mom Guide to Easy Dinner Ideas gives you a complete weekly dinner plan for 4 weeks. After 4 weeks, you can reuse the plan, or rearrange the recipes in a different order or add a few new ones.
No more stress about what to make for dinner.
No more expensive last minute drive-thru diners.
No more spending hours looking for new recipes or getting too busy and never planning your meals at all.
Click here to get your copy of the Smart Mom Guide to Easy Dinner Ideas today enjoy these quick and easy dinners with your family this week.