Do you ever sit down and just dream about your life? Do you take time to truly visualize the life you would like to have? Imagining the home you would like to live in, the places you would like to visit on vacations, the relationships you want to have, and even the job you would like to have?
Have you ever tried to put your dreams into a vision board? A vision board is a beautiful visual representation of your dreams and goals. Vision boards are created with bold images that inspire you to take action. If you have never made a vision board, here's an easy step-by-step guide on how to make a vision board.
Note: For your convenience, this post includes affiliate links. If you make a purchase, I may receive a commission at no additional cost to you.
What do you need to make a vision board?
Since a vision board is a pictural representation of your dreams and goals it will mostly be beautiful images that are meaningful to you.
Items you need to create a vision board:
Poster board (or larger)
Glue or pushpins (if you use corkboard)
Recent magazines for images
Photographs
The easiest way to design a vision board is to use a poster board or corkboard. With a poster board, you will glue your images to the board, but if you choose a corkboard you can move the images around and even remove them over time.
The best place to find images for your vision board is magazines. Try to find a few recent magazine issues and go through them looking for inspiring images to use on your vision board. When you find a great image that fits your future vision and goals, cut out the image for your vision board. If you don't have enough magazines, ask a few friends or family members if they have some magazines you can use, too.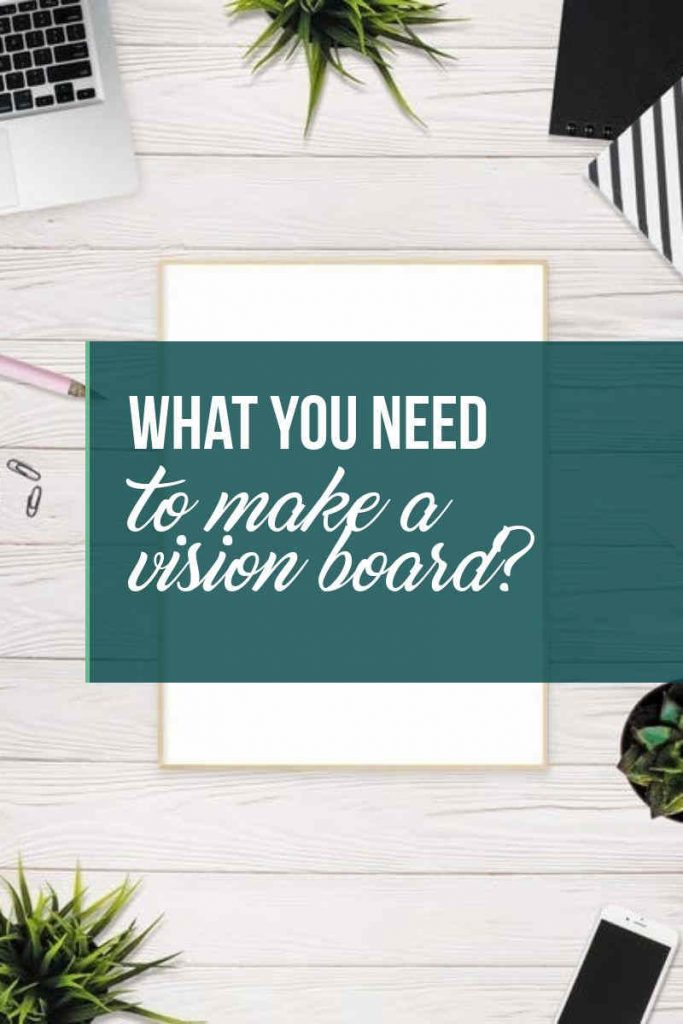 You can also use personal photos for your vision board. If you have photos of places you would like to visit or people who are important to you.
Take a few days to gather your supplies and images. Take time choosing the images for your vision board. You want to find really great and inspiring images. It's okay if you don't find an image for every dream you have in the beginning, when you find the right image, you can add it to your vision board.
Free Vision Board Printable
Plan your vision board with this free vision board printable. Brainstorm vision board ideas with this vision board printable. To request your planner, just complete the form below.
Choose your vision board categories
The next step is to decide which categories to include on your vision board, you'll want to decide if you are creating one big vision board or separate vision boards for each category.
Here are some categories to consider for your vision board:
Health
Job/Career goals
Finance/money
Relationships
Vacations/travel
Home life
There are no right or wrong vision boards or categories to create. You can create a vision board for any area of your life that you want to change, improve or be inspired to reach a goal.
You can create one board with different sections for each category or different boards for each section.
RECOMMENDED FOR YOU: VISION BOARD IDEAS
Vision board images
Now, take the images you picked and start sorting them into the categories you have chosen for your vision board. If you feel one image fits more than one category, put that image in the category you feel it fits best and is most inspiring for you.
If you notice any images you don't like or don't inspire you, place those images to the side or don't use them. You only want inspiring and encouraging images on your vision board.
Remember, the best images for your vision board are close to how you imagine the vision in your mind and also realistic. For example, it might be your vision and dream to live in a $20 million mansion with 10 rooms, 5 bathrooms, a pool, indoor spa, staff to take care of everything and more, but if you don't have an income to support this vision it's not likely to happen. But it probably is possible to move to a better home in a nice neighborhood or even purchase a home with a few acres of land.
Vision boards are meant to inspire us to be our better selves, but they should also be realistic. If we create vision boards that are not realistic, they will only frustrate us.
Create your vision board
It's time to put everything together and create your vision board.
Before you glue anything permanently down, just layout your images on the board. Then, move the images around looking for the right design. Just keep moving the images until it looks right to you.
After you have the pictures set where you want them, you can add stickers and quotes, too.
When you have everything in place, take a step back and look at for a minute. Do you like? Does anything need to be moved or changed? Make any adjustments you think are needed.
If you have time (and you don't have kids or pets that will mess up your work), leave everything for about a day, then come back and look again. Do you still like it? If you do, you are ready to glue everything in place.
When everything is dry, you can hang your vision board on a wall where you can see it and be inspired every day.
Remember, just because you make a vision board, doesn't mean these things will become a reality. You still have to do the hard work. You have to be willing to do what it takes to reach your goals and achieve your dreams. The vision board helps you visualize what your dream life could be like and motivate you to take the necessary action to make it happen.
Vision journal
Refine your vision board with a vision journal. Each day you can write in your vision journal ideas and new goals that add to your vision or inspire you.
Make your vision board better with the Amazing Life Vision Board Bundle. This bundle includes: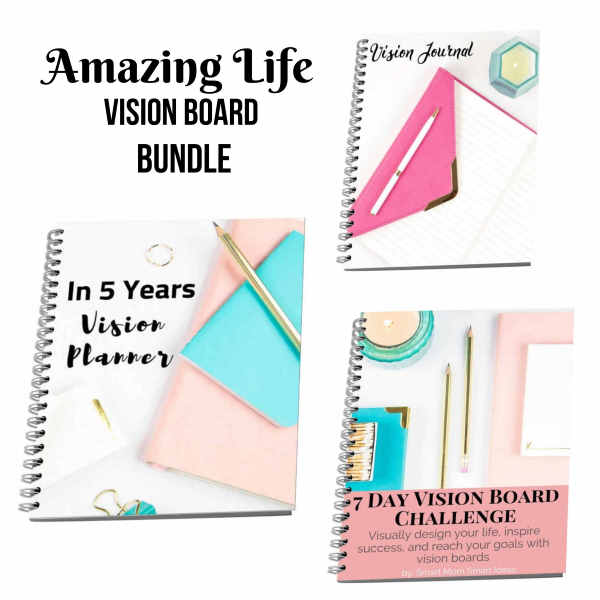 5 Day Vision Board Challenge (with step-by-step instructions to make vision board)
Vision Journal help you refine and update your vision boards
In 5 Years Vision Planner a vision planner to help you write 1-year goals and 5-year goals.
Bonus – Free Gratitude Journal
Get your Amazing Life Vision Board Bundle today.
PIN IT FOR LATER: