Busy moms don't have time for long and fancy dinners on the weeknights, right? We need quick and easy dinners we can put together in 15-20 minutes.  Sure, I would love to have a gourmet meal ready for my family every evening, but with homework, after-school practices and home chores to do it's really not practical.  To reduce stress and make life a little easier, here are 10 quick and easy dinners for kids you can make in 20 minutes or less.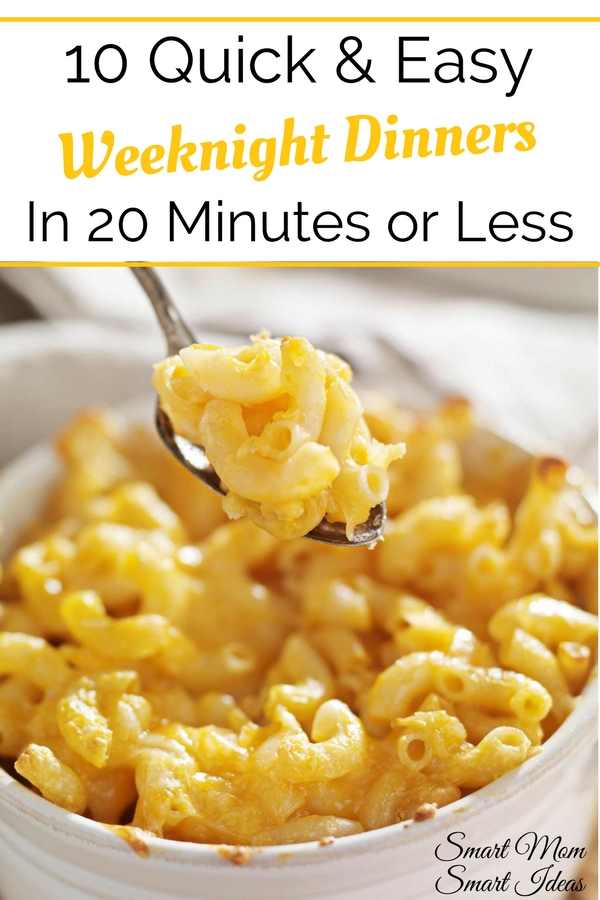 To save more time making dinner, be sure you plan your meals for the entire week.  Get your Smart Mom Meal Planner to help you plan ahead.
10 Quick and Easy Dinners for Kids
Note: For your convenience, this post includes affiliate links. If you make a purchase, I will receive a commission at no additional cost to you. Read my full disclosure policy here.
Taco Bar
A taco bar might not sound like a quick & easy dinner, but it requires very little cooking. You just brown the meat, heat up your refried beans (if desired), and while the meat is browning you can chop your lettuce, tomatoes, and onions and you are ready for dinner.
Here's what you'll need:
Taco kit like a Del Monte Taco Dinner (with the taco shells and salsa)
1 pound of ground beef
1 can of refried beans
Lettuce, tomatoes, onions, and cheese for toppings.
Once you have all your ingredients ready, organize them on the counter or table and invite everyone to dinner and create their own favorite taco.

Spaghetti & Meatballs
Spaghetti & Meatballs is one of my go-to quick dinners. Everyone in my family loves spaghetti & meatballs and it's quick and easy to make. Try this Easy Spaghetti & Meatballs recipe for a homemade dinner you can whip up in a hurry.
Here are a few of my time-saving tips:
Start with a pre-made sauce like Classico.
Use frozen meatballs.
Cook your spaghetti while you are preparing your sauce (the sauce can simmer while the noodles cook).
Chicken Tenders & Steamed Veggies
Chicken tenders have become a favorite dinner of my son. Fortunately, he's old enough to cook them for himself. But no matter what age your kids, Chicken Tenders and steamed veggies always make an easy dinner.
Decide how you are going to cook your chicken tenders – fried or oven-baked.
Grab your bag of chicken tenders and season with salt and pepper. Cover them with flour if you are frying them.
Then place them in hot cooking oil to fry for about 10-15 minutes until they are completely cooked or bake in the oven at 375 degrees for 15-20 minutes until fully cooked.
I usually use frozen veggies because it saves time on chopping and they stay fresh longer.  Choose your favorite veggie – broccoli, cauliflower, mixed veggies or a small side salad are the perfect side.

Broccoli Cheddar Soup and Mini Salad
Broccoli Cheddar soup is a favorite soup with my daughters. It's surprisingly easy to make and a very filling dinner.
Try this recipe for Broccoli Cheddar soup, it's my own and super easy to make. You can add a mini side salad for a complete dinner.
Grilled Chicken with Broccoli
Have you seen these packages of chicken you can purchase that's cooked and grilled for you? All you have to do is heat it up?  Grilled chicken has quickly become a favorite dinner at our house.
With the pre-packed grilled chicken, all you have to do is heat the chicken on the stovetop (we do it with a frying pan and just a little olive oil to prevent sticking). It takes about 10 minutes to fully heat.
Steam your broccoli (or your favorite veggie) as a side dish and dinner is ready.
Fajitas
Fajitas are another dinner that seems complicated for dinner but is actually very fast and easy to make.
You can make this super easy at home by using a pre-packaged Fajita dinner (comes with meat, peppers and onions and fajitas) or just the pre-cooked fajita meat and add your own peppers and onions and fajitas.
Just heat up your meat, onions and peppers (saute until tender if needed).
You are ready to eat.
For something a little different, try these Easy Chicken Fajitas with Cilantro-Lime Sauce recipe.
Fried Rice
Fried Rice is easy and you can add your favorite veggies and meat to make it unique.
Here's how to get started:
3 cups of Cooked Rice
1 cup of chopped chicken, shrimp or pork (your choice, and it's optional)
1 cup of chopped veggies like onions, carrots, peas, peppers.
1 scrambled egg
2 tablespoons of oil
Soy Sauce
Toss everything except the soy sauce into a saucepan pan and saute on low. Gradually add the soy sauce to taste (a few tablespoons – give or take). Fried on the stovetop for a few minutes until the veggies are tender.
Serve hot.
Grilled Cheese & a Cup of Soup
Grilled cheese is always a favorite for kids. It's easy for moms.  I love to use real butter with my grilled cheese sandwiches.
Skip the chips and add a cup of your favorite soup to make this dinner extra filling. I always keep a few favorite soups available in the pantry for when I need a quick lunch or dinner.

Fettuccine Alfredo and a side salad
My girls love Fettuccine Alfredo. This was once a treat we only had at restaurants, now we make it at home too.  You'll be surprised how fast and easy this dinner is to make.
This will sound silly, but I like colors on my plate.  Since Fettuccine Alfredo is white, I like to add a side salad with some leafy greens and a red tomato for a quick and easy dinner.
Homemade Mac & Cheese with Pork Chops
When I was growing up my grandmother would make Homemade Mac & Cheese.  This recipe for Homemade Mac & Cheese tastes so much better than the boxed version.  Plus, it's a classic dinner most kids love.
What goes with Mac & Cheese, how about pork chops? You can easily fry and bake pork chops to add with your Homemade Mac & Cheese and dinner is ready.
Are you ready for a quick and easy dinner solution?
What if you could have quick and easy dinners every night?
What if you had a ready to use 4-week menu plan with recipes?
You could stop stressing about dinner ideas.
You wouldn't have to look for kid-friendly recipes.
Wouldn't it be nice to have an easy recipe plan, filled with recipes you can make in about 20-30 minutes each night?
The Smart Mom Guide to Easy Dinners is a 4-week complete menu plan.  This menu plan has 28 dinner ideas, a different meal for each night of the week, no repeats meals.
With the Smart Mom Guide to Easy Dinners meal plan, you will receive:
4 Ready to use weekly menu plans
Complete recipes for each dinner
Side dish suggestions
Quick dinners to feed your hungry family (most meals can be prepared in 30-minutes or less)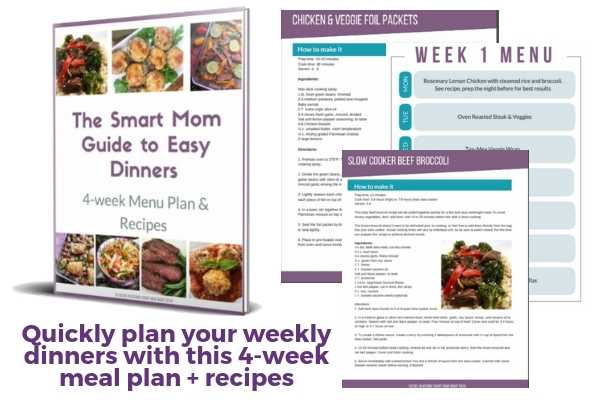 Get your copy of the Smart Mom Guide to Easy Dinners and simplify your meal planning today.