Mom, do you feel weary and tired today? Are you overwhelmed by your daily activities that seem like too much? Do you feel you need encouraging words for mothers? You are not alone. These 10 Bible verses of encouragement were chosen for overwhelmed moms. These Bibles verses are promises for moms to encourage you in your journey.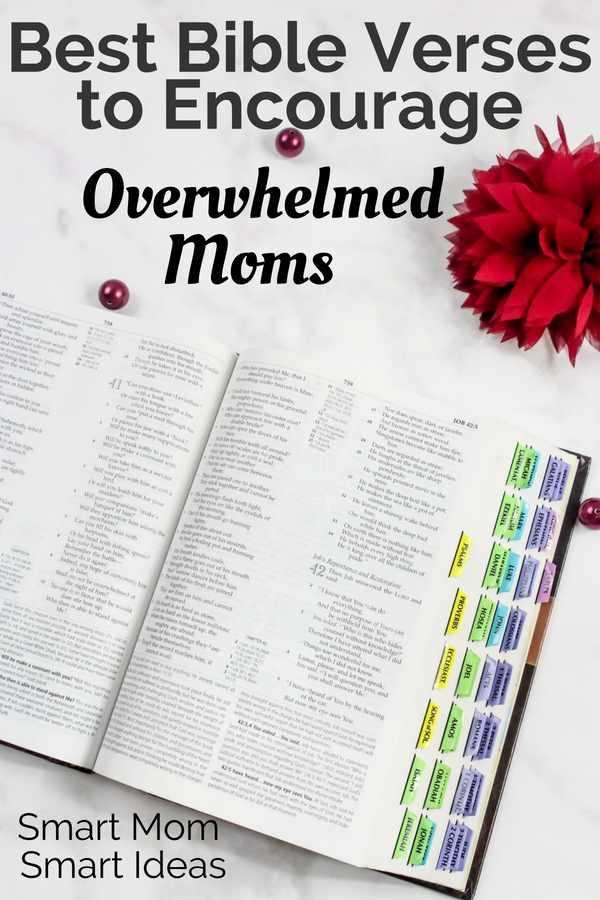 We all have days when nothing seems to go right, when we feel like we have failed. Remember, God has a plan and a purpose for you (even when things are hard). Even during our most difficult days and struggles, God is with us. We are never alone.
Some days, we need to relax and rest. Download these free Bible verses of encouragement coloring pages. Each page has a Bible verse for struggling moms to claim the promises on each page.
10 Bible Verses for Encouragement
1. Hope
Psalm 42:5, "Why are you cast down, O my soul, and why are you in turmoil within me? Hope in God; for I shall again praise him, my salvation and my God."
God is our hope. No matter our circumstances or trouble we can place our trust in God and know He is our one and only hope.
2. Peace
Numbers 6:24-26, "The Lord bless you and keep you; the Lord make his face to shine upon you and be gracious to you; the Lord lift up his countenance upon you and give you peace."
Our peace comes from the Lord. In days of happiness or days of sadness and trouble, He is with us and will be gracious to us and give us peace. We can calm our troubled and distracted hearts with His peace.
3. Joy
Psalm 4:7, "You have put more joy in my heart …"
Our joy comes from God and the hope that He gives to us. We cannot trust the world, a person or our possessions to give us joy. True joy endures long after people and things are gone.
4. Deliverance
Psalm 32:7, "You are a hiding place for me; you preserve me from trouble; you surround me with shouts of deliverance."
God is our deliverance. He will give us a hiding place and a place of safety from all of our troubles in life. Ask him to save and deliver you today.
5. Purpose
Psalm 138:8, "The Lord will fulfill his purpose for me; your steadfast love, O Lord endures forever. Do not forsake the work of your hands."
The God who created and sustains the universe has a plan and purpose just for you. Every day He is working to fulfill that plan for you.
---
You might also like 10 Bible Studies to Encourage Moms
---
6. Help
Isaiah 41:10, "Fear not, for I am with you; be not dismayed, for I am your God; I will strengthen you, I will help you, I will uphold you with my righteous right hand."
So many powerful promises are given to us in this one verse. We do not need to fear for God is with us. God will strengthen and help us and uphold us. If your heart is troubled, memorize this verse and claim the promise of help from God today.
7. Courage
Joshua 1:9, "Have I not commanded you? Be strong and courageous. Do not be frightened, and do not be dismayed, for the Lord your God is with you wherever you go."
We have nothing to fear. Have courage the Lord our God is with us always.
---
Especially picked for you: 10 Bible Verses for Overcoming Obstacles
---
8. Comfort
Matthew 5:4, "Blessed are those who mourn, for they shall be comforted."
When you are in a time of mourning or sadness, you will receive comfort. Trust in the promise of comfort. There will come a day when God will wipe away your tears and sadness will be no more.
9. Rest
Matthew 11:28, "Come to me, all who labor and are heavy laden, and I will give you rest."
Are you weary and tired? You don't have to carry your burdens alone. Lay your burdens at the feet of Jesus and find the rest you need.
If you have difficulty falling asleep at night, I find that prayer smoothes my active mind and calms me so that I can sleep well. Give it a try on the nights you are restless.
10. Assurance
Philippians 1:6, "And I am sure of this, that he who began a good work in you will bring it to completion at the day of Jesus Christ."
Rest in the assurance that God has a plan for us. Every day of our life as long as we live He continually works out this amazing plan in our lives.
When you are tired, when you discouraged, when you need help, remember these 10 Bible verses and the promise of each one.
The Anchored in Hope 30-Day Scripture Journal
Bible journaling is an encouraging way to study scripture. With the Anchored in Hope Journal, you receive 30 Bible verses on hope. You can write the Bible verse and how it brings you hope and encouragement each day.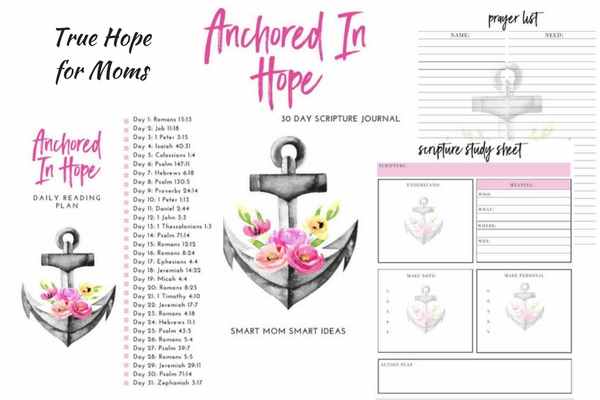 Here is what's included in this journal:
30 Scriptures on Hope for you to study
30 Journal pages to write your thoughts and encouragement from each verse
Prayer list
Journal pages can be reused for a new study
Encouragement for your tired and overwhelmed heart
Get your copy of the Anchored in Hope Journal for just today.
Your turn…
What is your favorite promise from God? What is your favorite Bible verse for encouragement?

Pin It for Later: