When do you start looking for a new planner each year?
My annual search for the best mom planner usually starts in August or September each year. I start looking at new cover designs and page layouts. I want to see all the new colors and designs. I love comparing the different layouts.
You might say I'm a planner fanatic. I love planners. I can't walk by an aisle in a store with planners and not stop to look at the designs. But choosing the best planner can be overwhelming with so many choices. I'd like to help you simplify your 2022 planner search with this best planners for moms review.
In this review, I'm recommending the best planners and organizers for moms in 2022. The best planners for moms are divided into categories. To help you focus your search, planners are rated by the best daily planner, best weekly planner, best family planner, best working mom planner even the best life planner and more.
HOW TO CHOOSE A PLANNER
Choosing a planner is a very personal decision. Picking the right planner makes all the difference between a planner you use that organizes your life and a planner that just sits on a shelf collecting dust.
When you find the right planner, it's like magic. You can organize your time, keep track of appointments, remember to take your kids to soccer practice, be on time, set goals and get things done.
In years past, I have spent 2 and 3 months reviewing calendars, testing calendars, and waffling between planners trying to decide which one will work for me. I created this best planner 2022 review to make it easy for you to find the best planner.
Before we start reviewing the best planners and organizers for moms, let's consider a few planner basics to help you refine what you want and need in your planner. Answer these questions:
What size planner do you want? Do you want a planner that will fit in your purse to carry around or one that is a desktop size and lays on a countertop or desk?
Do you like a colorful planner? Or do you prefer a minimalist planner with few distractions?
What layout works best for you? I personally prefer vertical layouts, but sometimes horizontal is better.
Do you have a busy life? How much space do you need to track activities? Do you like to track things by the hour? Or just by the day?
Think about your favorite planner from the past, what did you like best about it? If you had a planner you did not like, why did not dislike it?
If you find the right planner, you will use it all year (maybe even purchase it again and again for several years). Before you purchase a planner, take a few minutes to really consider what you like and don't like about planners and what they need to include to be a useful planner and organizing tool for you.
For your convenience, this post includes affiliate links which means I will receive a small commission if you make a purchase at no additional cost to you. Read my disclosure policy here. I would also like to thank the Erin Condren team, My PA Planner, Smart Productivity Planner, the Ulitmate Weekly Planner, and PurpleTrail Planner for providing me planners to review. All opinions here are my own.
WHAT ARE THE BEST PLANNERS FOR MOMS 2022?
Best Weekly Planner – Erin Condren Planner
Best Working Mom Planner – Living Well Planner
The Best Custom Planner – PurpleTrail Planner
Best Daily Planner – Day Designer Planner
Best Journal Planner – The Hope Planner
Best Christian Planner – DaySpring Full Bloom Planner
Best Family Planner – MomAgenda
Best Goal Planner – PowerSheets
Best Productivity Planner – Smart Planner Pro
Best Focus Planner – Planner Pad
Best Entrepreneur Planner – My PA Planner
Best Bible Verse Planner – The Ultimate Weekly Planner
Best Purse Planner – 2022 Mom's Plan-It
Best Parent Planner – 2022 Amy Knapp Family Organizer
---
The Erin Condren Life Planner has everything a busy mom needs in one place to keep your home and life organized.
This planner includes:
Pages for weekly planning
3 Different page layouts to choose from
Monthly features and focus goals
Monthly notes and reminders pages
Inspiring quotes
And more…
Moms love simplifying busy life schedules with the Erin Condren Life planner. Click here for your copy.
Read my full Erin Condren Life Planner review here.
For moms that need a planner to organize their home, plan family activities, meal plan and more, choose The Living Well Planner. A colorful planner with beautiful designs and space for daily activities, home cleaning, setting priorities, and more.
This planner is designed for moms that want to make their planner their own.
This undated planner has pages for monthly planning, weekly planning, goal setting, budgeting and more.
The Living Well Planner gives busy moms the organizing tools they need to easily manage their daily and weekly plans.
This planner is available as a full-size planner/desk layout.
Check out The Living Well Planner and see the many different creative ways to design your day.
3. BEST CUSTOM PLANNER – PURPLETRAIL
Sometimes the best option for a planner is a personalized planner. With a custom planner, you can design the planner you want and make it most useful for you. PurpleTrail is my favorite custom planner for moms.
PurpleTrail has 2 planner sizes 6″ X 8″ and 8 1/2″ X 11″. You can choose a smaller purse size or full desk size.
PurpleTrail also offers several page layouts including daily, weekly, monthly designs in various vertical and horizontal styles. They even offer the popular mom planner layout.
You can also choose a beautiful cover from many designs. I love the inspiring cover designs PurpleTrail offers and colorful layouts with your name and the year or even a collage of family photos. With this planner, you get to choose your favorite cover.
If you like, you can also add up to 4 additional page sections to this planner like "to-do" lists, note pages, checklists, nutrition trackers, travel itineraries and more. Pick and choose the add-on's that work for you.
Due to the many customizations available with the PurpleTrail planner, I love using it as a personal planner or a blog planner. One of the best customizations is being able to start your planner on any month that works best for you.
If you are picky about your planner and like unique designs, check out the designs and page layouts at PurpleTrail see if they have the perfect planner for you.
For more on PurpleTrail planners, read my PurpleTrail mom planner review and academic planner review.
The beautiful Day Designer Planner is the best daily planner for moms. This planner is both an hourly planning and a daily "to-do" list to help you focus on your daily priorities.
Each day also has a designated space for your daily "top 3 priorities" to make sure you are getting your priorities done and hourly space for your daily activities.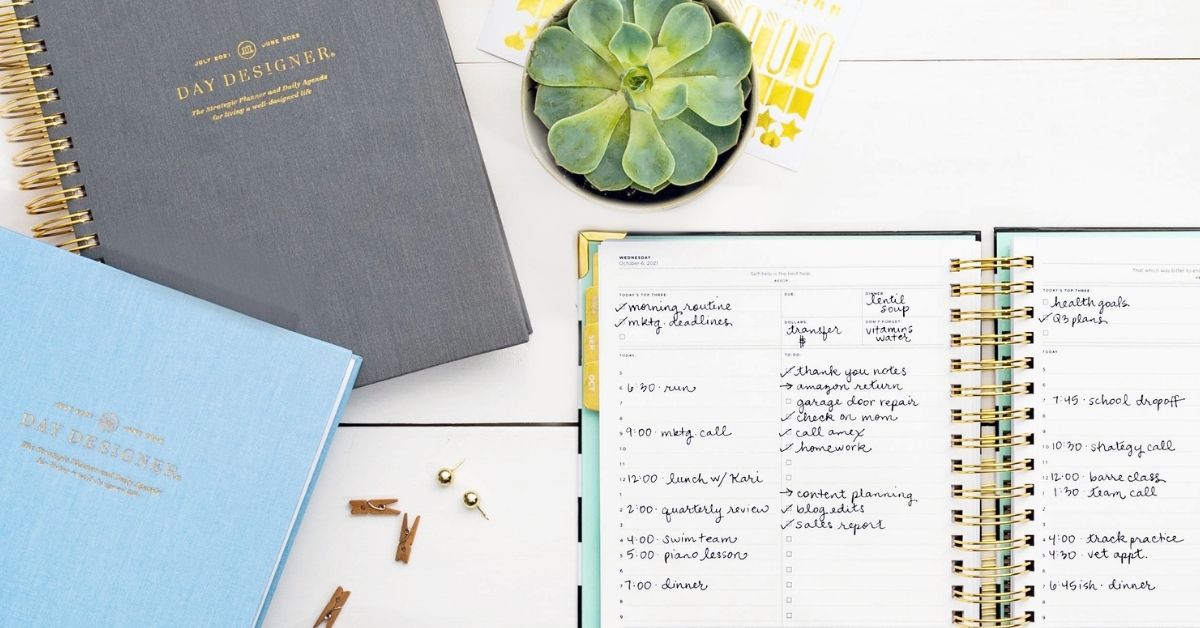 This planner comes with many different cover styles.
One possible negative is that because it's a daily planner, it's a thicker planner and probably too large and heavy for most moms to carry in their purse. But the pretty layout will accent your desk or countertop.
Click here to see to find the right Day Designer Planner for you.
If you are looking for a journal planner, try The Hope Planner. This beautiful planner has is perfect for journaling and daily planning.
The Hope Planner comes in weekly and daily designs. The daily layout includes space to write a daily Bible verse and prayer requests plus daily to-do's and appointments.
The weekly layout includes vertical weekly planning space and prayer requests, devotional habits, reminders to reach out to others and more…
Click here to get your copy of the Hope Planner and see how you can be more organized and closer to Christ.
DaySpring offers several Christian planners for women. Many of their planners are 18-month planners with varying layouts (some weekly layouts have to-do list style and others open space). Some have themed devotionals like the (in)courage Courageous Habits Planner or the Studio 71 – Rhythms of Grace Planner.
These pretty planners have Bible verses, encouraging quotes, prayer lists, and note pages (that could be used for Bible journaling or sermon notes).
My favorite from this collection is the Studio 71 – Rhythms of Grace planner. I like the monthly devotionals and pages to write memories you don't want to forget.
See all the DaySpring 2022 Christian Planners here.
8. BEST FAMILY PLANNER – MOMAGENDA
MomAgenda is a great planner for moms that like to track activities for yourself and your kids/family members separate and simple. The planner has soft page tones, but no flashy or distracting designs, just easy clean page layouts.

MomAgenda comes in 2 sizes, hardback or spiral, and several formats and colors. This planner is a minimalist planner it doesn't have lots of features, designs or pictures. If you like simple, this is the planner for you.
---
Based on the metaphor that what we focus on and cultivate is what grows in our lives PowerSheets by Cultivate What Matters helps you define the important goals in your life and take the action steps to make those goals happen.
Unlike the other planners on this list, it's not a daily planner to track appointments, meetings, and things to do. It's a big-picture planner that will help you move from where you are to where you want to be. For me, PowerSheets is a supplemental planner to my main planner. At the same time, if you want to make 2022 the year you get serious about your goals, take a look at the PowerSheets Planner.
This planner starts with a year in review. Looking back and getting a broad overview of where you want to go this year. Then you work through steps of how you will reach these goals. Each month, week, and day, you have a tending list (items you are focusing on that will help you achieve your goals). These tending items help you take the steps to reach your goals. As you make progress each month, you should see your goals cultivated.
Highly-focused, goal-oriented achievers take a look at Power Sheets.
The Smart Planner Pro is a planner that will help you be more productive by planning each day hour by hour so no time is lost.
This undated planner comes with monthly and weekly layouts. The monthly layouts are all at the beginning of the planner allowing you to get make big picture plans and easily see the flow from one month to the next.
The weekly layouts have hourly scheduling from 6:00 am to 9:00 pm. You can also set 3 daily priorities, daily gratitude, and weekly habit development. Don't forget a weekly bullet-point review and improvement section.
I like this planner if you are fast-minded and on the go. It's very concise. If you are direct and to the point, this might be the planner for you.
If you track hourly appointments for meetings or do scheduled work, I think this is a great planner.
The Smart Planner Pro is undated, but it comes with stickers for the dates and reminders. I really like the size of this planner – 6″ X 9″ which is great for purses and tote bags. It's not too thick or heavy. The cover is vegan leather and comes in several colors.
Get your Smart Planner Pro here.
11. BEST FOCUS PLANNER – PLANNER PAD
If your planner isn't working for you and you want a planner to help you focus and organize your day, consider the Planner Pad. The Planner Pad is for goal-driven women that like to set goals, plan your day (in hourly increments), daily and weekly to-do lists and more.
The Planner Pad will help you become more productive with weekly tasks and to-do lists. Check out the unique time management system that shows you how to categorize weekly tasks (i.e. home, appointments, business, etc…). Then set the daily priorities and to-do list and finally block out time to be sure each task is completed.
Stop being scattered and disorganized, get the Planner Pad and see how organized your day can be.
Maximize your productivity with the Planner Pad.
12. BEST ENTREPRENEUR PLANNER – MY PA PLANNER
Owning a business is hard work. The MY PA Planner is for entrepreneur women that like to set goals, track productivity, basic income tracking, social media planning and more. The My PA Planner gives you the tools you need to run your business.
You will love this business planner with monthly goal and project planning pages, monthly income/expense overview, hourly planning, weekly to-do lists, and weekly wins and more.
The one planner you need to run your business.

Organize and plan your business success with the My PA Planner.
The 2022 Ultimate Weekly Planner is a simple, but encouraging planner. This planner comes in 2 designs: classic and minimal. Each week includes a 2-page spread. In the classic layout (my favorite), one page is for the to-do list and one page is for weekly appointments. In the minimalist design, each week is a 2-page horizontal layout.
If you have a big weekly to-do list, you will probably like the classic layout. If you prefer to detail each day the horizontal layout would be better.
I also love that each week has a Bible verse to encourage you or for weekly memorizing. Each month also has a Bible verse art page. These pages are so pretty. The classic edition is more colorful, while the minimalist has a black and white design.
Click here to see all the options for the 2022 Ultimate Weekly Planner.
The 2022 Mom's Plan-It Planner is a simple planner for busy moms. Plus, it fits right into your purse or tote and has monthly and weekly planning pages. Each weekly 2-page spread for appointments and daily to-dos and a removable shopping list.
Mom's Plan-It planner is best suited for moms that don't have many appointments and only need simple daily reminders each day. It only comes with a horizontal layout. If you just want a simple planner for appointments, school activities, and reminders, this planner is perfect.
The Amy Knapp 2022 Family Organizer is a great parent planner. It's colorful and bright and filled with stickers. I found this planner a few years ago and I loved keeping a weekly to-do list and having space for daily appointments and plans, too.
This planner has monthly and weekly layouts. The weekly layouts are horizontal with one full page for your weekly "to-do" list and priorities. It also has pages with dates to remember and holidays… plus several pages of fun stickers. If you like a small but useful planner for busy moms, check out the Amy Knapp Family Organizer.
Planner Accessories
What's a planner without your favorite planner pens, washi tape, and stickers!
Choosing the best planner can take time. Be thoughtful and pick the right personal planner and organizer for you. Use this planner review guide to find the best planner for you this year.
YOUR TURN…
What is your favorite planner? What is the feature you need most in a planner?
PIN IT FOR LATER: