Choosing a new planner each year is one of my favorite yearly activities. It's so much to check out all the new cover designs, page layouts and ways to organize your day.
This year, I was so excited when the Erin Condren team invited me to review the Erin Condren Life Planner.
Note: For your convenience, this post includes affiliate links. If you make a purchase, I may receive a small commission at no additional cost to you. Read my full disclosure policy here. All opinions in this post are my own.
What is an Erin Condren Life Planner?
It's an all in one planner to organize and plan your life. With the Life Planner, you can schedule your day, plan meals, keep up with all your appointments and kid's schedules. You also have space to set goals, monthly notes, inspiring quotes, and more. Even the busiest moms can keep their life in order with an Erin Condren Life Planner.
What's in the Erin Condren Life Planner?
The Erin Condren Life Planner includes everything you need for an organized and well-planned life. This life planner includes:
Three weekly planning layouts (choose the layout that works best for you)
Unique covers that can be customized
Inspiring monthly quotes
Goal Setting and notes pages
Bright colors
Monthly planning pages
Fun Stickers
Keep It Together Folder
You start by choosing a cover. For my planner, I chose a customized cover with the Green Wedding Shoes design. I loved the bright purple flowers on this cover. I added my own inspiring statement, "Design a Beautiful Life." You may also add your name or initials if you prefer.
Erin Condren Life Planner offers many different covers for you to choose and customize.
Next, you will pick a layout:
Hourly
Vertical
Horizontal
I chose the vertical layout which includes 4 daily sections to divide your time or your tasks. For example, you could divide the sections by morning, afternoon, evening and meals or by tasks like appointments, things-to-do, cleaning, and meals.
Size: The Life Planner is 7″ x 9″. It's a little large for most purses, but it would fit fine inside a tote bag or computer bag. It's easy to carry and layouts nicely on your desk.
Colors: You have 2 color options for the planner pages: colorful or neutral. I loved the bright and cheerful colorful option which I selected, or you can also select neutral colors that have more muted tones. You will love the updated colors for 2020/2021.
Inspiring quotes: Every month has an inspiring quote to encourage you. You will love seeing a new motivating quote each month.
Monthly productivity pages: Each month you get the start fresh with new goals and planning. You can take the time to write down your monthly goals, important tasks and review your progress from the month before.
You will love designing your productivity plan each month and then checking at the end of month to update your progress.
Keep It Together Organizing Pocket: In the back of the planner, you have a sturdy pocket to organize papers, notes, receipts and it even includes a perpetual calendar perfect for keeping track of all your important dates like birthdays and anniversaries.
Fun Stickers: Four pages of fun stickers to add to your planner and make it colorful and uniquely you.
Things I Didn't Like
Not enough note pages – I like to take lots of notes. I wish it had more note pages each month. You can get the Deluxe Planner & Notebook which has more notebook pages, but not the weekly planning pages.
Goal planning pages are minimal. I would love a 2-page spread each month for goal setting with focus questions. For more goal planning focus, you'll love the Petite Goal Planner.
It doesn't have a page at the end for the month in review to reflect on what you did well and what could be improved next month.
Make It Your Own
Erin Condren offers many accessories you can add to your planner. You can truly make your planner fit your lifestyle and be "you". Here are some of the accessories I ordered:
Snap-In Dashboards – Each planner comes with a basic snap-in ruler to use as a page marker, but you can also add specific snap-in dashboards like:
Daily priorities/To-do lists
Checklist
Teacher dashboard
Bill Tracker
Wellness Tracker
Favorite Accessories – there's a little of everything for your planner here. Get your favorite pens and markers, pencils, bright stickers, sticky notes, bookmarks, washi tape and many more fun things to add to your planner.
Petite Planners are smaller planners perfect for your purse. I chose a monthly petite planner (for monthly tracking) and a goal-setting planner for in-depth goal planning.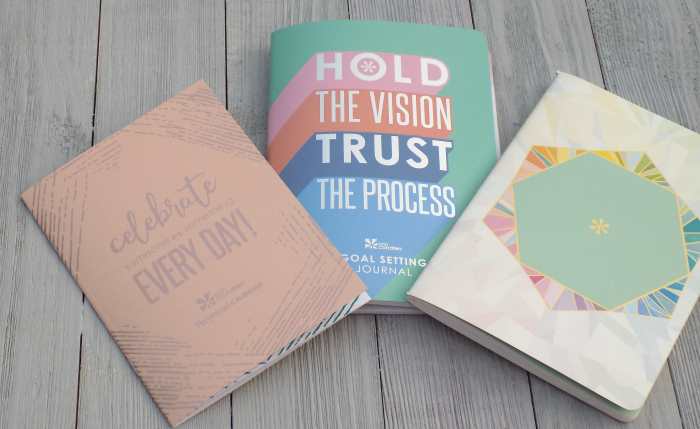 Petite Planners have many formats including:
Gratitude journal
Meal Planning journal
Budget Bundle
Checklist journal
More…
Erin Condren offers everything a busy mom needs to organize her life. The Life Planner will help you organize your day, plan your meals, schedule appointments, set goals and more.
I'm so looking forward to the new year starting so I can start using my Erin Condren Planner.
Click here to get your Erin Condren Planner today.
Handpicked Posts Just for you: