Learn How You Can Get More Done Every Day
Do you feel like you always need a few more minutes in your day?  Maybe you need an extra hour or two to get all your important tasks and priorities done?  You don't have to feel alone, many moms (me included) feel like there's just not enough time to do all the things we would like to do each day. I have good news for you, I have found 10 productivity books that will help you make the most of your time and get more done every day.
We all have the same 168 hours in a week, 24 hours in a day. The difference in our productivity is how we choose to spend our time. What can we start doing today that will make us more productive?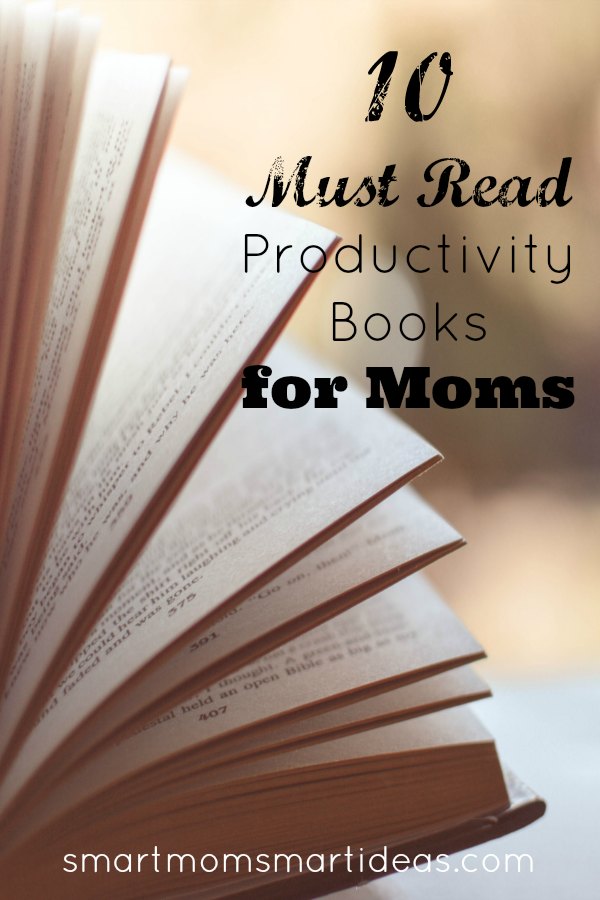 I have selected books from 10 time management experts for their insights in time management and getting things done. Some or all of these books would be your summer reading list.
10 Productivity Books Just for Moms
Note: this post includes affiliate links.  Read my disclosure policy here.
You may know Laura Casey from her Power Sheets that help you design a life you love by learning to focus on the most important things.  She also wrote a book called Make It Happen. The book is part autobiography and part a how to do it plan (based loosely on the framework of the power sheets).  From this book, you will be encouraged by Laura's story and have the confidence to start working on your dreams now.
The focus of The One Thing is to help you recognize and focus all your energy and passion on your one main goal.  Stop multi-tasking.  Stop juggling too many balls and trying to keep them all moving.  Be productive and successful by focusing on your one thing.

Design Your Day will help you take the steps you need to set SMART goals and organize your time around the principle that in doing less you can accomplish more.  Design Your Day will show you how to be more productive, clarify your goals and live your life with purpose and intention.  PS – Claire offers some great productivity freebies on her website you might want to check out.
I added this book to the list because it mostly written for working moms and helping them manage their busy day at work. Laura Stack will help you learn things like what must done, managing your time, and focusing your attention.  She provides many insights to help you find more time to get the most important work done during the day.
Learn from the success of others who manage their time that you can accomplish more than you think. Laura will show you how to set priorities and stay focused.  When you have limited time, you will learn how to stay on target with the high priority tasks and let the lower priorities take a back seat. You can do all the things you believe are important and enjoy your life too.  Learn how to make the most of every hour each day.
Glynnis Whitwer will show you how to determine the important "to-do's" and the urgent "to-do's".  Too often, we let the urgent "to-do's" take control of our day and our time.  Learn how you can stop the distraction of the urgent and stay focused on the important to accomplish your goals and dreams.
This book is 21 tips to help you stop procrastinating and get more things done today.  Short and pithy chapters give you insights and improvements to help you get started right away.  Before you know it, you will learn how to focus on what's important and get more done.
Similar to The One Thing, Greg McKeown shows us how to do only what's essential in Essentialism: The Disciplined Pursuit of Less.  Essentialism will help you determine what the most essential things you need to do are and what can you say no to.  Because whenever you say yes to something, you usually have to say no to something else.
Amy Lynn Andrews shows us we can manage our time by deciding who are the most important people and what are the most important things we must do, then fitting our most important people and tasks into each 24 hours. No surprises, no gimmicks, just straight talk to help you manage your time and be more productive (a very short read at only 52 pages – no room for fluff).
Linda Formichelli takes a different approach to time management.  She wants you to determine what are the most important goals you have and set up a plan to reach those goals from the point of view of doing it all.  She also provides many insights and suggestions to help you stay focused and be more productive.  You can read my full review and what I think are the secrets to doing it all.
Wow! That's a list of powerful books full of insights to help you manage your time and make the most of each and every day.  Each these authors has a unique perspective and ideas  that can help you find the balance to get the most done every day and still have time to enjoy your family and friends.  I hope you will try one or two or even more of these books and send me an email letting me know what you learned.
Your turn…
What is your favorite time management book or author?  Share your tip for moms to be more productive every day.