Have you been putting off deep cleaning your home?  Are you overwhelmed by too many cleaning tasks? Are you just too tired to start?
Deep cleaning a home is one of those chores we all avoid but know it has to be done. After we finish, we usually feel so much better and we are happier in our home. One of the reasons we avoid deep cleaning is because we feel it's overwhelming. To make the cleaning more manageable, I created a 30-day cleaning challenge you can download for free on this page.
I started deep cleaning in our home this week. One of the first big challenges I tackled was removing all the visible dust.  Not dust on end tables and bookshelves, more like the dust that builds up on ceiling fans and light fixtures you can't reach without a ladder and fingerprints on doors and dirt on baseboards.  Every time I would see this dust and dirt it would bug me, I am so much happier now and feel less stress to have this cleaning done.
Next, I continue systematically working through the house going room by room.
If you have been putting off deep cleaning your home, now is the time to start. Here's how to get started.
Gather your supplies
I know that true deep cleaning is challenging and hard work. But if you have been putting off deep cleaning your home for too long, then I'm giving you a 30-day challenge. Here's the plan you need to deep clean your home in 30 days or less. Download your FREE 30-day deep cleaning challenge below.
Recommended supplies for this challenge:
Note: For your convenience, this post includes affiliate links. If you make a purchase, I will receive a small commission at no additional cost to you. Read my full disclosure policy here.
Comet (it's cheap and great for cleaning the kitchen sinks and bathrooms too)
Rags/cleaning cloths
Donation box or basket for items you plan to donate
Trash bags
Detergent for the washing machine
For this challenge, you will use different supplies on different days. To keep things simple, gather all your supplies when you start this challenge so you are ready for each day of the challenge.
Get the right mindset
When you start a cleaning challenge, you need the right mindset. Before you start, you need to determine in your mind you will finish. You don't want a half cleaned home?
Before you start your cleaning challenge,  set a goal in mind when you want to complete the challenge and how you will get the work done.  Set aside an hour or so every day to work on this cleaning challenge.
Imagine how different your home will be when you have the cleaning done. I'm a big believer in visualizing. When we see how things can be and visualize our goal, we are more motivated to work and make it happen.
Print out the 30-day challenge calendar.  Pin it up where you will see.  First to remind you to keep working on the project and second so you can mark off what you have finished and you can see the progress you are making.
Last, determine you won't quit. Once you start the job, decide you will finish it.
Enlist help if needed
Deep cleaning can be physically challenging if you have physical limitations (for example, cleaning the oven is difficult if you have a bad back).
If you need help, get your kids involved if they are old enough or ask a friend to help you. If you ask a friend, maybe you could offer to take them to a nice dinner or purchase them a surprise thank you gift later to show your appreciation for the help.
Only if it's absolutely necessary and within your budget, you could also consider hiring help.
Start your challenge
These challenges may be done in any order (some may take longer than others). If you need more time for one of the challenges, save it for a weekend or day you have more time and pick a challenge that works for you each day.  Just cross them off the calendar as you complete them.
Day 1: Deep clean your oven.
Day 2: Clean out your pantry and organize it.
Day 3: Remove pots, pans, and gadgets from kitchen cabinets and drawers.  Clean the drawers thoroughly.
Day 4: Remove everything from your refrigerator, clean all the shelves and drawers.
Day 5: Deep clean one bathroom, be sure to clean under cabinets and in drawers.
Day 6: Deep clean the 2nd bathroom, clean under cabinets and clean out drawers.
Day 7: Clean all the tile floors, grout and hardwood floors.
Day 8: Clean the window blinds.
Day 9: Clean the porch and outside areas.
Day 10: Wash artificial greenery and plants.
Day 11: Dust and clean the ceiling fans.
Day 12: Clean the baseboards throughout the house.
Day 13: Clean around the edge of cabinets and tables for trash and debris that gets stuck.
Day 14: Clean under all beds and furniture (what will you find in these secret hiding places?). Make your kids clean out under their own beds.
Day 15:  Clean out closets and dressers. Donate clothes you can no longer wear/use.
Day 16: Trash old magazines, newspapers, junk mail, and other counter clutter.
Day 17: Donate books you have read or don't plan to read/read again.
Day 18: Clean and disinfect all toys.
Day 19: Wash curtains.
Day 20: Clean out your make-up. Trash old, broken and unused items.
Day 21: Clean all the windows and window sills.
Day 22: Wash rugs and steam clean carpets.
Day 23: Wash all pet bedding and blankets.
Day 24: Dust/clean high areas like the top of the refrigerator/high cabinets
Day 25: Wash all linens, bedding items, and blankets.
Day 26: Vaccum and clean couches, chairs, and furniture.
Day 27: Dust all pictures, items hanging on walls, and light fixtures.
Day 28: Clean the inside of the microwave and the kitchen sink.
Day 29: Clean out the garage.
Day 30: Clean all doors, door handles, and door frames.  Repaint if needed.
Wow! That's a lot of deep cleaning in just 30-days.  Now that you are done, take a walk through your beautiful clean home and give yourself a pat on the back for all your hard work. Enjoy your home.
Smart Mom Home Cleaning Checklist
To simplify your home cleaning, get the Smart Mom Home Cleaning checklists. This printable checklist bundle has 12 deep cleaning checklist for all the rooms in your home plus outside too.
Use these checklists as your deep cleaning guide to get your home cleaning done or for ongoing cleaning tasks.
The checklists are great to get your kids involved in cleaning too.  Print a checklist and give to your kids for them to deep clean a room or area in your home.
Grab your Smart Mom Home Cleaning ChecklistSmart Mom Home Cleaning Checklist today.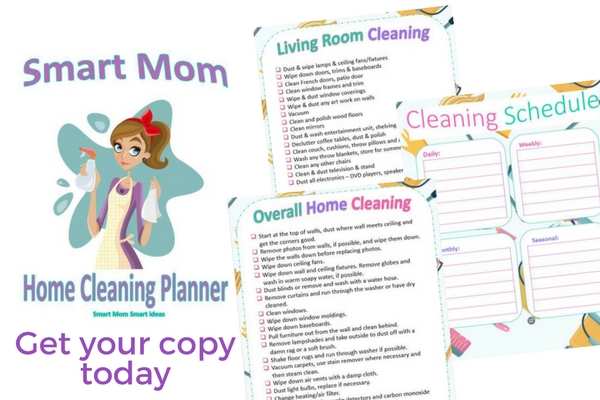 PIN IT FOR LATER: