If you need an easy recipe that you can set and forget in the slow cooker, you will love this slow cooker chicken parmesan recipe.
Slow Cooker Chicken Parmesan is a simple meal that your whole family will enjoy. This recipe isn't fried and is only sprinkled with breadcrumbs.
This recipe is perfect as a main dish or for chicken parmesan sandwiches.
Recommended for you: Meal Planning Ideas – Recipes, Meal Plans & More…
What sides can you serve with Chicken Parmesan?
Spaghetti
Salad (green salad or caesar)
Broccoli
Green beans
Mixed steamed vegetables (squash, carrots, broccoli, cauliflower)
Slow Cooker Chicken Parmesan
Classic Chicken Parmesan in the Slow Cooker
Keyword:
Chicken Parmesan
Ingredients
1

jar marinara sauce

2

cloves

garlic

Basil

as desired

Italian seasoning

as desired

Salt and pepper

as desired

4

boneless skinless chicken breasts

2

cups

shredded mozzarella cheese

1

cup

breadcrumbs

4

tbsp

extra virgin olive oil

divided

8

oz

box of spaghetti noodles
Instructions
Prepare four boneless skinless chicken breasts by trimming fat and patting dry.

Season the chicken with basil, Italian seasoning, salt and pepper on both sides.

In a skillet, heat 2 tbsp extra virgin olive oil. Add garlic and cook until fragrant (about 30 – 60 seconds).

Add the chicken, quickly searing each side.

In your slow cooker, pour half of the bottle of marinara sauce.

Add your chicken and cover with the remaining marinara sauce.

Top with 1 cup of mozzarella cheese.

Cook on high for 3 hours or low for 5-6 hours.

In a skillet right before serving, heat up 2 tbsp olive oil. Add the breadcrumbs and cook for a few minutes until crisped.

Just before serving, prepare the spaghetti noodles. Follow instructions on the box.

To serve chicken, top with mozzarella and breadcrumbs. Great over pasta, as a sandwich or on its own.
Recipe Notes
Alternate oven instructions: After searing the chicken, place in a shallow baking pan. Cover with marina sauce and sprinkle with mozzarella cheese. Set the oven to 350 degrees. Bake for 30-45 minutes until chicken is completely done. Remove from oven.  Complete steps #9-11 and serve.
Simplify Your Meal Planning the Smart Mom Guide to Easy Dinners
Imagine coming home from work and having a quick and easy dinner you can prepare in 30 minutes or less.
The Smart Mom to Guide to Easy Dinners includes 4 weeks of dinner ideas with kid-friendly recipes like this slow cooker chicken parmesan recipe.
Save money with a weekly meal plan filled with easy to make recipes for busy moms.
Get Smart Mom Guide to Easy Dinners today and take the stress of out your weekly meal planning.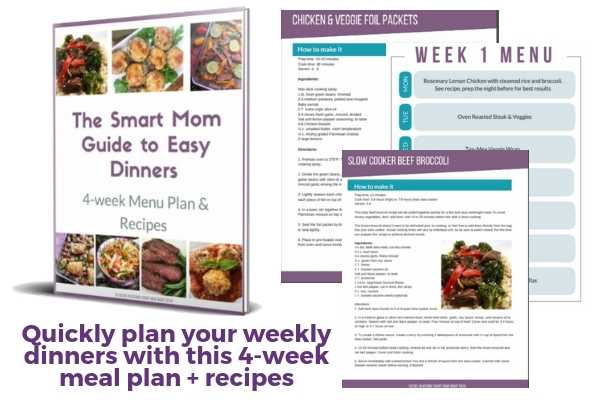 PIN IT FOR LATER: