Complete Your Taxes Faster – Organize First
Taxes.  IRS.  IRS forms.  Words we all hate to hear and say.  While we cannot avoid filing tax returns, we can make completing the process easier by organizing our documents before we start the filing process.
For this week's organizing challenge, we are going to organize your documents to prepare your taxes.  This is week 6 of Organize Your Life. If you missed any of the earlier posts, be sure to check out all the previous organizing posts.
This post does not include tax advice or suggestions for preparing your taxes.  It only discusses ideas to organize your tax papers and documents to complete your taxes.  If you need tax advice, please seek advice from a tax professional.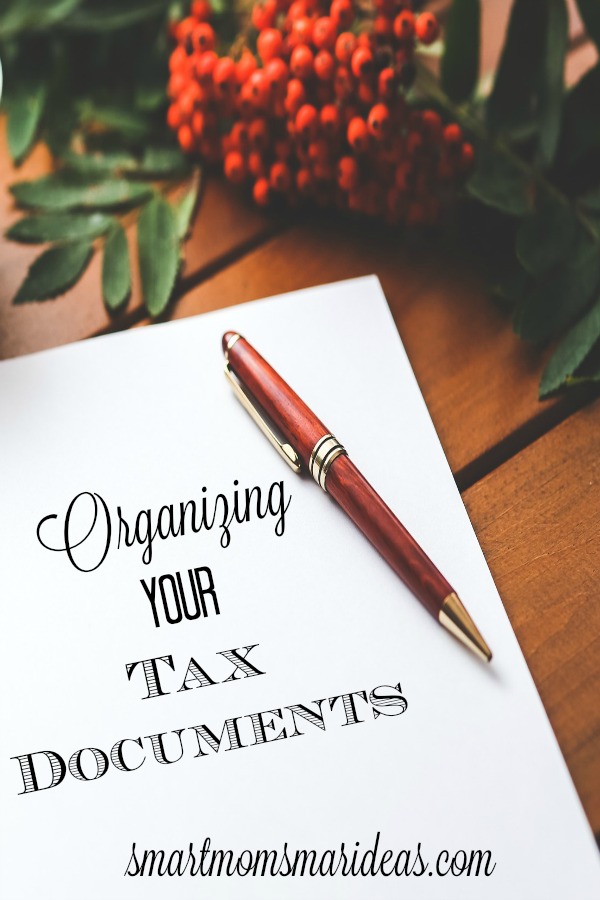 A few years back I started preparing my own tax returns (our forms are fairly simple).  I have learned over the years that I can complete the tax return quickly if I do one key step in advance: gather and organize my information and documents.
Although most of the documents and receipts you need for your taxes will be received in January each year, there are some receipts you receive all through the year (like doctor receipts and donations).   To save time, I collect all my receipts year round into a special folder for "taxes" (see more on my process below).  It saves me so much time at the end of the year and no more lost receipts.
Gather the Basic Materials You Will Need
Depending on your circumstances, you may not use all the items below and you may or may not have all the deductions.  These items are materials to gather that will allow you to start the process.
Names and social security numbers for each person (including your children) you will be including on the tax return.
W-2 documents from each employer
1099 Forms
Retirement account statements  and other income
Interest and tax documents (home mortgage, bank summaries, retirement accounts, etc…)
Child care summaries (if you use an outside child care provider, request an annual summary or tax summary, they can usually provide you invoice/receipt for entire year).
Sales receipts for large items like cars and boats  (the sales tax may be deductible)
Medical and dental receipts (if you have high co-pays or high deductibles, you may reach the threshold for claiming these expenses.  We don't usually meet the threshold but we do some years.  It's worth checking the receipts.  Tip: If you ask your pharmacy, they may be able to provide you an annual summary for the entire family.)
Charity and other donation receipts (don't forget receipts for clothing and household goods you donated)
If you own a business, receipts for all expenses and supplies purchased.  Also receipts for utilities like phone and electricity used by your business.  If you drive for your business and track mileage, don't forget to include how many miles you drove per year and travel expenses (airline and hotel).
Education expenses – receipts for college tuition and expenses
Interest on student loans if your income is below set thresholds
Note: This list is not exhaustive, and will vary based on your individual and family circumstances. For example, we do not claim the student loan deduction right now because we don't have any student loans.
Sort and Organize the Documents
Once you have all your materials gathered, sort them by basic categories:
Income
Deductions (home mortgage interest, student loan interest, education expenses, charity donations, etc…)
Credits (some education expenses, child care)
Business
Other
When you have all your documents gathered and sorted, you are ready to start your tax return.  You will be surprised how quickly you can complete your own return or how fast a tax professional can complete it when you have all the materials ready and organized.
Start Gathering Next Year's Materials Now
As soon as a new year starts, I create a new folder for tax documents for the current year.  Anytime during the year that I receive a receipt or document that might be needed at tax time, I save those receipts in my annual tax folder.  Some examples might include medical/dental expenses, receipts for charities and donations, childcare receipts.  Sometimes I will be able to get an annual summary (like child care), but I save all these receipts just in case I need them.
At the end of the year when I review and start to organize, if I have duplicate receipts, then I can remove any extra receipts.  If you save a receipt at the time you have the expense or donation, you are more likely to remember it and find it.
In the years since I have started saving my tax receipts and documents all year, I have been amazed how much easier it is to prepare my taxes.  I don't spend hours or even days searching for receipts because I have saved them all through the year.
Your Turn…
How do you save and organize your tax documents?  What is your best time-saving tip to gather your tax materials?