The Many Important "Roles" Mom's Complete in their Children's Lives
My youngest daughter (who was 6 at the time) walked up to me a while back and said, "Mommy, I just don't have any shoes to wear with these clothes." I looked at her knowing she had several pairs of shoes that would be perfect for her outfit and suggested the pair I thought she would like best.  At that moment, I realized one of my roles as a mom. I was a chief problem solver.
Then I started thinking about all the "jobs" that moms do in their children's lives. Being mommy means we have many roles we complete in our children's lives. Here are 10 roles moms have in the life of their family that brings the true joy of motherhood.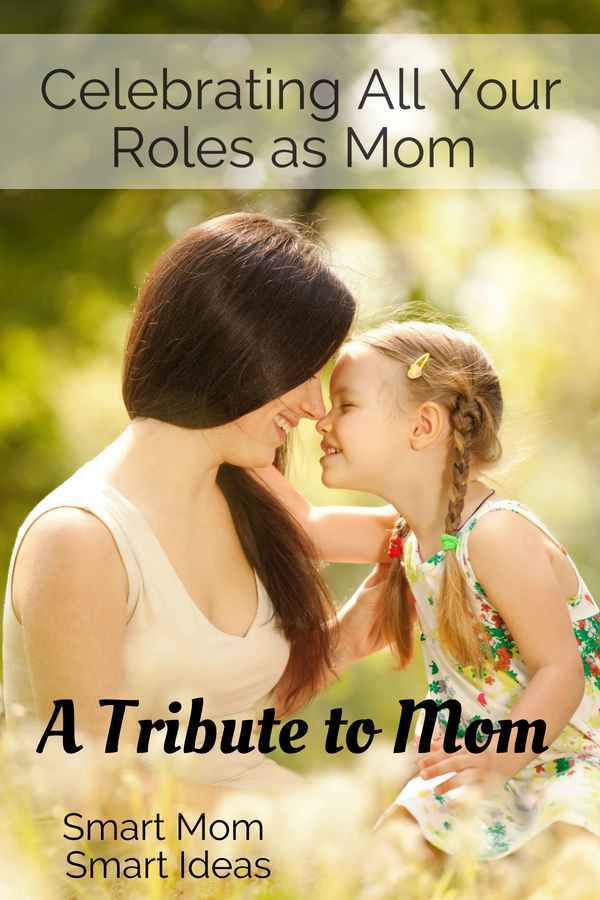 Today, I'm taking a moment and honoring moms. For all the many roles you play in your children's lives. Your hard work and dedication to all your jobs as a mom have not gone unnoticed.
This post is a tribute to you and all the roles you complete in your children's lives as you help them grow up.
Top 10 Titles for Mom that Bring Joy to Motherhood
Primary Teacher
One of our most important roles as mom is primary teacher.  Our kids will watch us, they will learn from us, when they grow up they will ask themselves, "what would mom do?" when making important decisions.
The role of primary teacher makes a significant impact on our kids.  If you have ever had your kids repeat a phrase you say all the time or repeat an action you do all the time, you know your children will follow your example. Be sure you are the example you want your children to follow.
Chief Judge
If you have 2 or more children, you have been the chief judge.  They will have a disagreement or my favorite, "I had it first!" You will have to decide in a fair way who should get the toy or how to get them to play together nicely.
As our children get older, we must to have discernment.  We must determine when our child is telling us the truth or what is the best course of action (even if it's unpopular with your child).  These are the responsibilities of the mom who is also the "chief judge".
Chief Negotiator
From about the time your child can talk, your child will come to you to negotiate.   You will hear things like, "If I eat one more bite of my veggies, can I have dessert?" or  "If I complete all my homework by 6:00 pm, can I play video games for an hour?"  You will negotiate how long your child can play the video games or how late they can stay up before going to sleep at night.  Children try to negotiate with parents all day.
As moms, we are the chief negotiator and we must be strong in our negotiations.
Head Chef
Do you hear this question every day, "Mom, what's for dinner?"  As a mom, we prepare meals, make lunches and encourage our children to eat healthily.
It's the job of the mom who is the head chef to always have a meal plan.  If you need some inspiration here are 10 Easy Dinners You Can Make in 20 Minutes or Less.
Chief Problem Solver
Just like the problem with the shoes I mentioned at the beginning of this post, moms help their children solve problems.   We can direct them to take actions or ask them questions to help them solve the problem on their own.
Moms have to be very creative to solve all the problems they face from their kids every day. The title of Chief Problem Solver is well deserved!
Head Referee
How many times have you walked into a room with arguing kids and heard, "Mom, gets to decide." Mom doesn't even know why the kids are yelling, but Mom is the head referee in many household disputes.
Head Chauffeur
One of your children has music class, one has soccer practice, one has play practice, one just wants to go to the store for new shoes, all on the same night!  As a mom, you are the head chauffeur who will pick-up and deliver everyone where they need to go and be on time of course.
Be sure to make your chauffer time special.  Ask about their practice and what they learned in school.
Coach and General Manager
As a mom, we spend a significant part of our time coaching our children.  We coach them to help them learn how to take care of themselves.
I consider homework time coaching time.  Every weeknight we spend one to two hours or more completing homework assignments.  During this time, I coach.  I show my children how to study better, how to correctly answer test questions, and how to complete assignments.
I also have to be their general manager. If I don't remind them to complete their assignments or finish cleaning their rooms every 5 minutes, they will get distracted and homework or chores take hours.
I saved my favorite 2 titles for last…
Chief Nurturer and Comforter
When our children are sad and disappointed, we can be there for them.   We can hold their hand and give them hugs.
We can help them understand disappointments are a part of life.  As a mom, we can teach them an appropriate response.
We also comfort them and nurture them in their disappointments.  We can share stories from our own experiences.
Chief Hug & Cuddle Giver
All child need hugs, kisses, and cuddles from their mom no matter what their age. Children need to know their mom loves them and supports them.  A mom's love will make a child more confident.
Mom's also love to get a chance to have hugs, kisses, and cuddles too!  It's one of the best parts of being a mom.
Whew!  You didn't realize all the jobs you have as a mom.  Do you feel tired now?
Each day in our mom life, we make new and precious memories. These memories are moments we want to remember and stories we want to retell over and over again.
You can record all your special mom moments in a One Line a Day  – 5 Year Journal. A perfect journal designed just for mom's to records all your precious moments of mom life.

Get your Mom's Memory Journal today and start recording a special moment every day.
You won't regret writing down your memories today as you re-read them years from now.
Your turn…
What is your favorite job as mom?  What other titles should mom have?